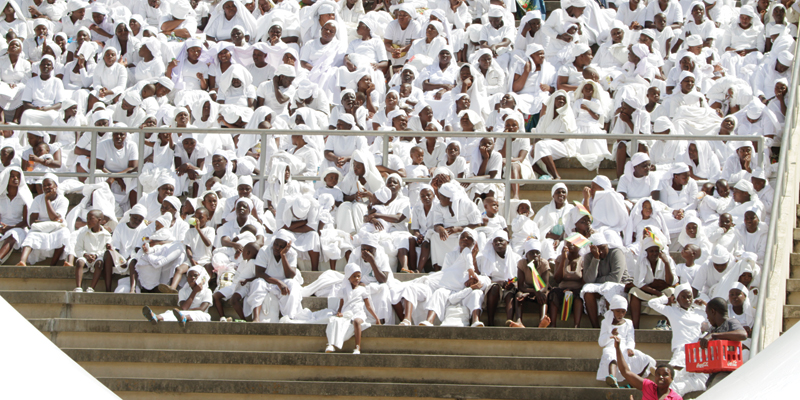 MEMBERS of the Johanne Marange apostolic sect have embraced medical treatment, a government official has revealed.
BY KENNETH NYANGANI
Mutare district nursing officer Margaret Guwira told delegates at the handover of a Plan International-funded Women and Their Children's Health project at Village Inn in Nyanga to government last Thursday that they had recently secured the permission of the sect's leader Noah Taguta to include his followers on any health programmes.
The sect commands an estimated following of over 1,2 million people across the country.
Hundreds of children and women from apostolic sects in the country have been dying as their religious beliefs do not allow them to seek medication.
"In Mutare, we were focusing on five sites, that is Sakubva Hospital that was the referral centre, Marange Rural Clinic, Muromo Clinic, Bakorenhema Clinic , Zvipiripiri Home-Based Care and for some who don't know Zvipiripiri is the heart of the white garment," Guwira said.
"Through the programme we created a garden in Zvipiripiri targeting members of the apostolic sects where we have appointed a village health worker.
The mothers will come as if they are coming to buy vegetables and they will receive medication, family planning pills and immunisation for their children," she said.
Guwira added: "We are continuing dialogue with the apostolic sects in Marange over health matters and we are happy after accessing the hard-to-reach population and the good thing is that the leader of the sect said you should continue to educate the community. The leader said it is difficult for him to address his followers over the matter."
Taguta could not be reached for comment yesterday.
The project was funded by Plan Canada and that country's Department of Foreign Affairs, Trade and Development to the tune of $4 million in a move that was aimed to reduce maternal, neonatal and morbidity rates in Mutare, Mutasa and Chipinge.
This was achieved through increasing the demand for health services by women, children and men through educational and awareness programmes aimed at making them make informed health decisions.
Government will now take over the project which has been donor-funded for the past three-and-a-half years.