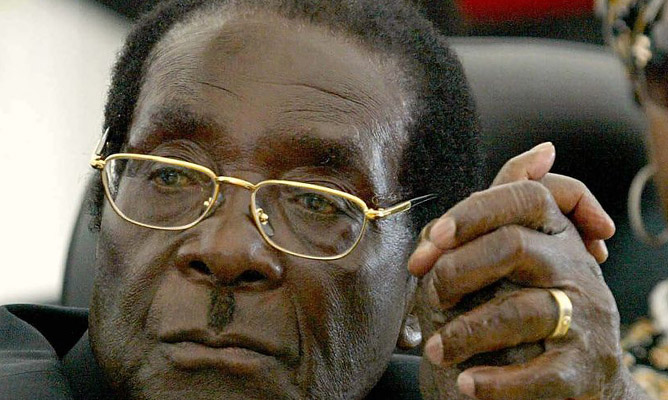 FORMER Masvingo Provincial Affairs minister Kudakwashe Bhasikiti has launched a two-pronged attack on President Robert Mugabe's ruling Zanu PF, challenging his recent expulsion in court and dismissing the party's leadership in Parliament as too corrupt.
BY VENERANDA LANGA/CHARLES LAITON
The Mwenezi East MP, facing an imminent recall from the National Assembly, yesterday fired a salvo at Zanu PF while debating Mugabe's speech, saying the 91-year-old leader was now surrounded by corrupt people.
Bhasikiti said the culture of corruption had been entrenched in Zanu PF and was now the norm.
"No one is innocent because the leadership has become too corrupt and do not think of the general public," he said.
"In the yesteryear, we experienced problems with bourgeoisie capitalists, but alas, we have replaced white capitalists with black capitalists, where leaders who are supposed to take care of the populace have abandoned them.
"The only person who is still with the people is Mugabe, but he needs fresh disciples."
Bhasikiti said the country was not enjoying true independence, as people were living in deep fear, saying they feared being outspoken, as they dreaded being killed or abducted.
He hailed the police for arresting Zanu PF youth leaders implicated in corrupt deals.
"This disease (corruption) is now creeping into our young people, and I would like to applaud the police for recently arresting these enemies of the people who were in the business of swindling innocent people through unorthodox and illegal housing schemes," he charged.
Bhasikiti said there was need for the government to put in more funds into the reconstruction of Tokwe-Mukosi Dam.
However, Zanu PF legislators were expectedly unimpressed by Bhasikiti's assertions.
Masvingo Central MP Daniel Shumba raised a point of order, saying Bhasikiti was smuggling in the Tokwe-Mukosi motion which had been removed from the order paper.
But Bhasikiti shot back, saying Shumba was one of the people the President once referred to as fronts of white investors.
The Mwenezi MP was asked to withdraw the statement by Acting Speaker Reuben Marumahoko, but refused saying he had not specifically named Shumba.
Meanwhile, the former minister on Monday approached the High Court, challenging his expulsion from Zanu PF, arguing Mugabe and his politburo had no powers to boot him out without bringing him before a disciplinary hearing.
In the High Court application filed on Monday, Bhasikiti vowed to stay put in Zanu PF, which he joined in 1976 as a war collaborator and abandoned school to pursue the quest for independence on a full-time basis.
"The politburo is the secretariat of the central committee," he argued.
"It does not have any powers of expulsion.
"Thus the decision to expel me is grossly irregular in that the politburo that expelled me does not have such powers in terms of the respondent's constitution."
The MP, through his lawyers from Tendai Biti Law, said Zanu PF's move to expel him and other members from the party was null and void because they were never given an opportunity to explain and defend themselves from any allegations.
"This instant application is one that seeks to review, the second respondent's (Zanu PF) decision to expel me from the party as announced on May 22, 2015," Bhasikiti said.
"In addition to this being an application for review, I also wish (to seek for) a decelerator to the effect that my constitutional rights have been breached."
He said when the decision to expel him was taken, Mugabe chaired the politburo meeting, hence his being cited as the first respondent.
Bhasikiti said prior to him being booted out, he was never subjected to the benefit of due process, was not charged of any offence and had not received any notice of any charge against him.
"In addition I have not appeared before any disciplinary hearing, I have not given my side of the story," he said.
"As stated above, I do not even know why I have been expelled.
"It is my respectful contention that at common law, I had a right to be heard, which right has been abused in the instant matter.
"In addition, I have a right to be given reasons, again which right has been abused in this matter."
He said the Zanu PF national disciplinary committee that sat, "if at all it sat", was improperly constituted in that Zanu PF does not have a national chairperson.
"In breach of its constitution, the first respondent (Mugabe) failed to appoint a national chairperson at its congress that was held on December 6, 2014.
"I, therefore, contend that any disciplinary committee that may have looked at my case, would have been improperly constituted," Bhasikiti said.
Zanu PF has expelled over 100 top officials it says were linked to a plot led by former Vice-President Joice Mujuru to topple Mugabe through assassination.
Several have also been suspended from the party including ministers and MPs.
Mujuru has dismissed the allegations and last week said she was concerned that six months after her dismissal she had not been given a chance in court.