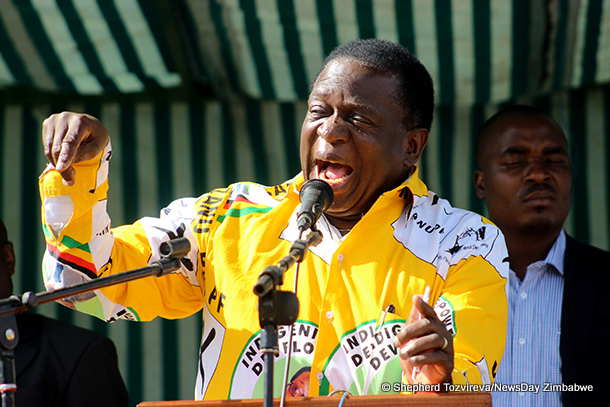 Vice-President Emmerson Mnangagwa yesterday insisted that Nigerian Sahara TV journalist apologised for embarrassing President Robert Mugabe when he visited Abuja recently for the inauguration of President Muhammadu Buhari.
BY VENERANDA LANGA
Mnangagwa was grilled in Senate by Masvingo Senator Misheck Marava, who asked him to explain the international policy on treatment of visiting Heads of State.
Marava also asked him to clarify allegations that he lied to Parliament that the journalist had made a written apology.
"The International Convention on Leadership provides that when a Head of State visits another country, the host State is responsible to provide security for that Head of State, but it does not prescribe punishment where the receiving State does not measure up to what is expected, but it is believed the States themselves will discuss the issue amicably as member States," Mnangagwa said. "What we know is that the journalist referred to made an apology. I have not heard of an incident where she has again withdrawn that apology."
Adeola Fayehun a journalist with Sahara TV and presenter of the satirical show Keeping It Real With Adeola in her new offering said it was a lie that she wrote a letter for tormenting Mugabe.
She accused the veteran ruler of being a dictator and asked him when he would step down.
Meanwhile, Manicaland Senator David Anthony Chimhini (MDC-T) asked Finance minister Patrick Chinamasa how Treasury had financed by-elections when the government was failing to pay allowances for legislators who served during the Seventh Parliament.
Chinamasa blamed the unplanned expenditure on MDC-T.
"It is very strange that this question is coming from a Senator who is aware that the situation was created by his party when they chased away MDC Renewal Team MPs," Chinamasa said.
"You are feeling sorry for me, but the situation was created by your party which created vacancies. We are fulfilling constitutional obligations to meet that challenge."