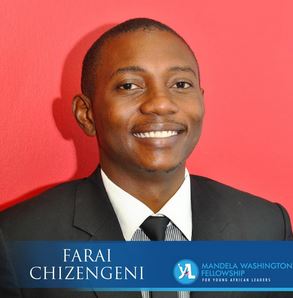 Finance expert Farai Chizengeni says it is a blessing to be part of the Mandela Washington Fellowship for Young African Leaders.
He says the fellowship is a "program that enables African youth to harness this potential for the betterment of their communities."
One of Africa's greatest resources is its young people, he argues. For him the exchange initiative will help mold the future leaders of Africa "by providing them with the tools and exposure to come up with home grown solutions to localized problems using best practices from the developed world."
Farai will spend six weeks of his fellowship at the University of Notre Dame in Indiana where he "intends to build lasting personal relationships with many different people while making a strong impression on key stakeholders who share a similar vision for the upliftment of Africa and her people.
Farai is currently a Corporate Finance Executive at Vunani Capital Zimbabwe where he is responsible for identifying investment opportunities, proactively engaging with financial institutions and other relevant third parties to identify suitable investment and advisory opportunities. He also manages and conducts reviews of investments at various stages during the investment cycle.
In this role, Farai has been an advisor to listed South African entities entering the Zimbabwean market, which involves navigating the investment laws and structuring suitable investments in both countries.
Upon completion of the Washington Fellowship, Farai intends to use the experience to further enhance not only his own capabilities but also empower his local community as well as facilitating greater participation of Zimbabwean youth in entrepreneurial activities. He hopes that the "fresh impetus and perspective of the program will help him in setting up a social enterprise."
Farai holds a Bachelor of Laws Degree from the University of Witwatersrand and is a CFA Level 1 candidate.