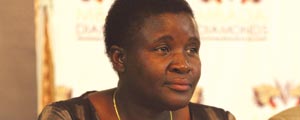 President Robert Mugabe has reportedly refused to be dragged into "petty constituency fights" rocking Harare East after the party fielded two candidates in one constituency for the June 10 by election.
BY XOLISANI NCUBE
Addressing a rally in Harare East, Tafara councillor and Zanu PF district chairman Luckmore Mandava said deputy national political commissar, Omega Hungwe approached Mugabe and his two deputies to have Terence Mukupe withdrawn from the race in favour of Mavis Gumbo.
Mandava said, Mugabe refused to entertain her saying "those are petty cell matters which should be dealt with by the commissariat department".
"Don't be misled that the president or the First Lady Grace Mugabe had instructed (Saviour) Kasukuwere to impose Gumbo as the MP for this area," he told a rally to launch Mukupe's campaign in Tafara yesterday.
"Ask the deputy PC (political commissar) Amai Hungwe, she went to see the President so that Mukupe could be withdrawn, but the President said he will not be involved in small fights such as these.
"So those lies being written in the media that the President or the First Lady have spoken on who should be the MP are lies being peddled by the Gamatox faction who want to drag the name of the leader of the party into issues that are supposed to be handled at cell or branch level."
Although NewsDay could not contact Hungwe to verify Mandava's claims, last week Kasukuwere refuted allegations that he had been ordered by Grace, the Women's League boss to abandon Mukupe for Gumbo who is favoured by the Harare provincial executive.
Both Mukupe and Gumbo have been cleared by the court to enter the race as Zanu PF candidates for Harare East constituency.
In his address, Mukupe said he will not be swayed by attempts by the provincial leadership which is driven by petty personal agendas that were contrary to the principles of the party.
"If people don't respect their national leaders as it is written in the Bible, their stay in office is short lived," he said.
He said his record in Zanu PF was traceable and those questioning it were misinformed.
On Saturday, Gumbo held her rally in Caledonia where she promised to dish out land to homeless people in exchange for votes.
Unlike Mukupe's meeting, Gumbo had the full backing of the provincial leadership from the Women's League, youth and the main wing represented by the provincial political commissar Shadreck Mashayamombe.
Prior to the rally in Caledonia, youths allegedly linked to Gumbo invaded the farm where the meeting was held so that they could resettle landless people who in turn would vote for her.