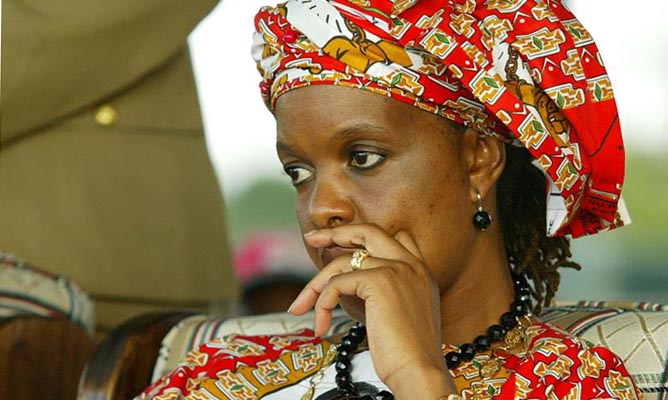 Zanu PF top officials in Harare have been accused of using First Lady Grace Mugabe's name to extort money from at least 10 housing co-operatives from the high-density suburb of Glen Norah.
By XOLISANI NCUBE
According to a letter written by the co-operatives to Vice-President Emmerson Mnangagwa's wife, Auxilia, who is Zanu PF's deputy secretary for environment and tourism, the officials have been collecting money claiming they were doing it on behalf of Grace.
The co-operatives named Zanu PF Harare youth leader Godwin Gomwe, Hariwandi Munyawiri and Mucheneripi Mupindu, among others, as the brains behind the scam.
"We are a group of 10 co-operatives who were allocated residential stands by the Harare City Council in February 2014 in Glen Norah B under zone 2," reads part of the letter.
"However, our concern is that on February 2, 2015, provincial members, Cde Hariwandi Munyawiri, Cde Makambaire, Cde Muchineripi Mupindu and Cde Godwin Gomwe, called us to a meeting and announced that the land we were allocated belonged to the First Lady and Zanu PF."
"They said every co-operative shall pay $120, which shall be taken to the Zanu PF province and taken to State House to Dr Amai Grace Mugabe . . after this, the same provincial members said they now want $10 000 for the youth and $25 000 for the Women's League to start their project somewhere else."
Gomwe yesterday denied the allegations, but said he knew about the letter to Mnangagwa's wife. He said his political enemies were trying to tarnish his image.
"I know nothing about it Cde," he said. "I am well informed about it even where this thing is emanating from including what they want to achieve.
"I am not shocked that they have reached you, it's a smear campaign."
Mnangagwa's wife said she was away at her Chirumanzu-Zibagwe constituency when contacted for comment. "I am in the rural areas in my constituency. Let's talk about it when I return to Harare," she said.
The co-operatives alleged that even after paying the money, they were still not allowed to build on their stands.
"They demanded the money with threats . . . $10 000 was paid at Dolphin House at Cde Gomwe's office, $25 000 was paid at Mr Chivasa's house on the instructions of Cde Baya and Cde Mupindu," the letter added.
"To our surprise, having done this, they still cannot permit us to move to the ground."
This is not the first time Zanu PF youths have been accused of using the First Lady's name to get money from business people. Lewis Matutu, the league's secretary for administration was recently accused of extorting money from businesspeople in Midlands Province claiming he had been sent by the First Family.
President Robert Mugabe's spokesperson, George Charamba could not be reached for comment yesterday as he was said to have accompanied the Zanu PF leader to Nigeria for the inauguration of President Muhammadu Buhari.
The First Lady has not been seen in public for some time.