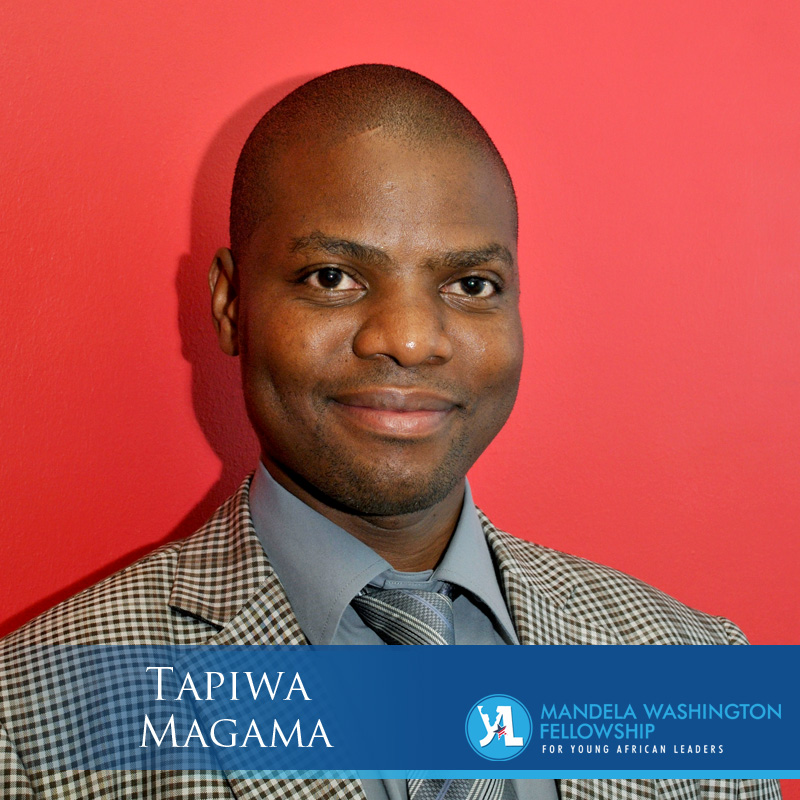 Medical practitioner and entrepreneur, Praise Tapiwa Magama, recalls absolute joy and disbelief in receiving the selection call one afternoon. He is one of the 30 selected participants for this year's Mandela Washington Fellowship for the Young African Leaders Initiative (YALI).
This is the second year of the fellowship and Tapiwa and the 29 other Zimbabwean Fellows will travel to the United States next month to begin. He believes this is a life changing opportunity because "'it offers not only a great networking experience but it will also hone in on who I am, thereby assisting me in being a better person to other people."
A resident surgeon at Mpilo Hospital in Bulawayo, Tapiwa has ventured into community activities that that have influenced lives. He founded the Tasimba Film and Arts Limited- www.uhurufilms.co.zw- a company that producesq films for social change as well as conducting online outreach on health and entrepreneurial skills. Tapiwa led a group of filmmakers using film as a way to identify solutions to problems in his Bulawayo community. Through this initiative he was awarded the Southern Africa Water Wire Fellowship by the SADC and Inter-Press Services Africa which enabled him to produce a documentary titled "Water and Urbanization." The documentary was screened by BBC and nominated the Best Short Film at the National Arts Merit Awards 2013.
Tapiwa has also pioneered the Community Backyard Poultry Program aimed at training and equipping young HIV positive entrepreneurs whilst lobbying for inclusion and total eradication of stigma associated with an HIV positive status among the youths.
The intriguing combination of professional health practice, community initiatives and business, will allow Tapiwa to share his experiences with other young African leaders at Dartmouth College in Hanover. He expects to learn a lot about business and entrepreneurship.
Upon his return, Tapiwa says he will continue with both his medical and entrepreneurial endeavors. He plans to establish a youth center in Bulawayo where he will train young creative people on how to run their businesses through workshops and courses. "Zimbabwean youth have great potential and while they seek funding, they also need professional knowledge or skills that will help them to win clients and do well in their endeavors," he says.
Tapiwa earned his Bachelor of Medicine and Surgery Honors Degrees at the University of Zimbabwe and is currently pursuing further studies as a surgical trainee with the College of Medicine South Africa.