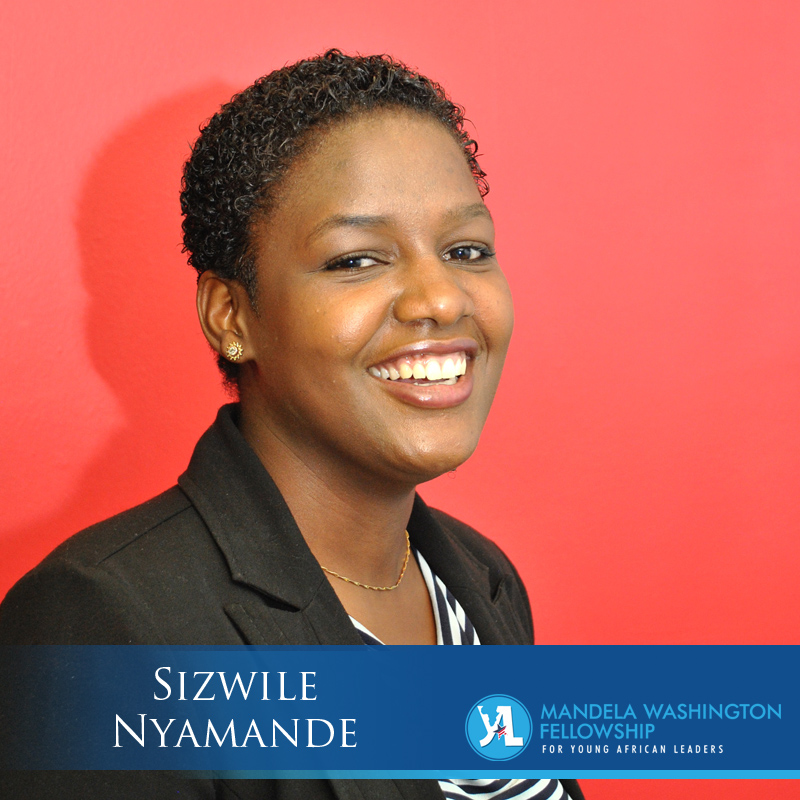 Environmental and community activist Sizwile Nyamande says her selection into the Mandela Washington Fellowship has spurred her resolve to strengthen programs that encourage young people and communities to use natural resources sustainably.
Based in the world acclaimed resort town of Victoria Falls, the young well spoken environmental awareness campaigner and development practitioner says she will be working with schools in Hwange District on environmental projects, improve science education in rural schools, especially for the girl child, and the establishment of a Resource Centre for the Better Schools Program in Zimbabwe (BSPZ) Cluster in her community.
She is currently the deputy chairperson of the highly influential Hwange District Education Stakeholders' Steering Committee, and chairs the Victoria Falls Cluster of the Better Schools Program in Zimbabwe.
A holder of a Masters of Science Degree in Disaster Management and Bachelors Degree in Environmental Science and Health, Sizwile has for more than five years been working with rural and urban communities on environmental management, food security and livelihoods, youth and women empowerment as well as child protection.
Sizwile is ecstatic at being selected as a participant as she believes "the MWF is a life changing experience for me which offers the opportunities for professional growth and development through the various networking, mentorship and learning platforms. Through the program I will get to interact more closely with the ideals and philosophies of two of the world's iconic leaders Nelson Mandela and President Barack Obama.
I strongly believe that through being part of the program I will establish long term networks that will enable me to be an exemplary leader who will serve the community with excellence." During her Fellowship, Sizwile will be stationed at Arizona State University at Phoenix in the United States of America.
She is looking forward to this university experience so that she can "work towards her Leadership Development Plan, interact with other fellows and host institution staff to further enhance my leadership skills through the in-class lectures, field trips and networking events", she says. "My main immediate goals will also be to share ideas, learn best practices, identify and establish long lasting networks that will enable me to make positive contributions to my local community, nation and continent," she adds.
Upon her return Sizwile hopes to "make use of the acquired knowledge, skills and experience gained to improve my current work in my community, identify more opportunities where I can serve as a leader and contribute to the development of my community, country and continent.
Sizwile also believes that having been given this opportunity it is her responsibility to avail herself and offer mentorship and guidance to other young people in her country and continent.
You can follow Sizwile's experience on twitter @SizwileNyamande