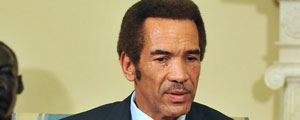 Seriously if indeed Sadc is a regional body that was established to tackle economic and socio-political problems that beset this grouping, why does it become blind when Zimbabweans face problems?
Why does it become weak to challenge President Robert Mugabe when his government represses its people? Why wasting regional resources hosting an all-important industrialisation summit in a deindustrialised country like Zimbabwe?
Why do Sadc leaders appear to give credit where it is not due?
Zimbabwe is a pariah state that is not worth mentioning when planning for the region's development, its leadership is comical and tired.
Sadc is in flames because how can its leadership sacrifice their time and poor taxpayers' money to come and talk industrialisation in a country with dead industry?
I feel our leadership must be practical by correctly evaluating the meaning of industrialisation which alludes to the functioning of factories with relevent machinery for production.
Zimbabwe no longer has any manufacturing industry making the summit a talk show. How can a country without football grounds host the Fifa World Cup? Let's not pretend to be mad!
I mean the just-ended summit was supposed to be a "tour of the industries summit" where Zimbabwe was supposed to showcase its prowess industrially.
Zimbabwe is in a sorry state that Sadc leaders were supposed to take Mugabe to task about the free-falling economy and human rights abuses in his country.
I was surprised to hear leaders committing grave human rights abuses castigating South African President Jacob Zuma for xenophobia in his country when their countries have similar problems but committed at different levels.
Zuma deployed his army to fight those perpetrating xenophobia, but in Zimbabwe, the same is deployed to cause "Zanuphobia".
Xenophobia in South Africa, though not justified, is not like the gross human rights abuse that is taking place in Zimbabwe sponsored by the Zanu PF government.
Terrorism is use of force to cause fear so as to rule. Journalist-cum-political activist Itai Dzamara was snatched from his family allegedly by the Zanu PF government.
Zambian President Edgar Lungu who is showing great appreciation of Mugabe must know that Zimbabweans have suffered enough under the leadership of his friend. That's why we are importing from your country that has taken in our former commercial farmers.
My heart goes to Botswana President Ian Khama. May he continue standing up for the oppressed. Zimbabwe is under dictatorship, we need your voice, dear Khama.
Xenophobia victims of Zimbabwean origin are victims of Mugabe's economic destruction for which he must take full responsibility. Zimbabweans must not be tricked into blaming Zuma alone.
Isaac Mupinyuri