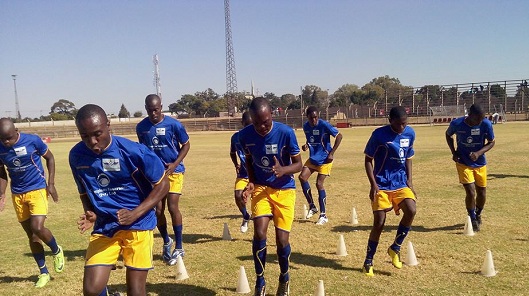 BUFFALOES . . . . . . . . (2) 2 CHAPUNGU . . . . . . . .(0) 2
BY KENNETH NYANGANI
ARMY side Buffaloes surrendered a two-goal lead to share the spoils with fellow uniformed forces Chapungu in a Castle Lager Premier Soccer League match played at Sakubva Stadium yesterday.
Chapungu scored two late goals through a Tineyi Chitora header in the 81st minute before striker Allan Tavarwisa scored a last gasp equaliser seven minutes later to cancel Buffaloes' two early strikes from Kudzanayi Mangongo (two minutes) and Kastigu Juwakinyu goal in 13th minute.
Buffaloes' fourth consecutive draw means the side's gaffer, Joseph Takaringofa, is now under-pressure to deliver as they are yet to collect maximum points this season from seven matches.
Some few Buffaloes fans protested against the army side's indifferent start to the season as they clamoured for the immediate dismissal of Takaringofa.
The coach blamed the defeat on lack of concentration, adding that his team was short of manpower at rearguard after defender Joseph Jambo suffered an early knock. "We had a lapse of concentration and I told my players at half time that we had not won the match. After our defender Joseph Jambo was injured in the first half, we had no replacements as most of the defenders are injured and Liberty Chakoroma was attending to a family issue," he said.
His counterpart, John Nyikadzino, was over the moon, saying his team was made of players with an unmatched fighting spirit.
"It's nice to come from two goals down. I think our tactics in the second half really paid off. My team is made of good fighters and we are hoping to continue from where we left today," he said.
With just two minutes into the match, Buffaloes surged ahead with Mangongo benefiting from a Juwakinyu lay off.
And Juwakinyu was then on the scoresheet himself 11 minutes later as Buffaloes seemed to be heading to their first win of the season.
But they took the foot off the pedal and Chapungu ensured a tense finish to the match after Chitora's header before Tavarwisa shocked the home fans with a fine shot in the 88th minute from a goal mouth meleé.