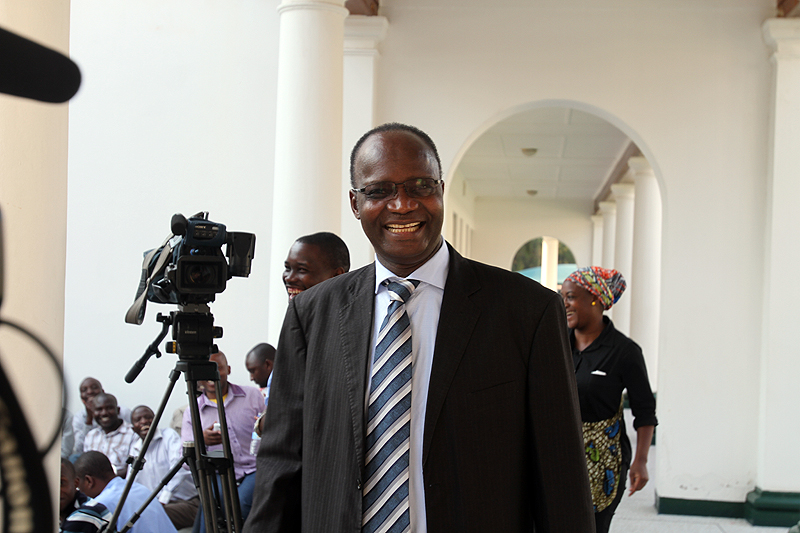 NEW divisions are looming in Zanu PF with Information minister Jonathan Moyo saying the long-touted heir-apparent and present Vice-President, Emmerson Mnangagwa, is not guaranteed to succeed President Robert Mugabe.
by xolisani ncube
As if to illustrate the new divisions in the party, a Mnangagwa ally has, on the other hand, claimed there were "gay gangsters" fomenting divisions in Zanu PF.
In an interview with BBC broadcast yesterday morning, Moyo said as far as the party was concerned, Mnangagwa was "just assisting President Mugabe to fulfil" his mandate.
"That is your own perceptions of things, don't put it to us as a fact. As far as we concerned, he was appointed to assist the President in executing his duties," Moyo, who was visibly irritated by the question about Mnangagwa's likely succession, said.
Mnangagwa has been touted as Mugabe successor for years and was viewed as a "silent plotter" in the dethronement of former Vice-President Joice Mujuru.
However, Moyo seemed to suggest that the Zanu PF succession equation had not yet been solved.
"He (Mnangagwa) is the VP of the country, one of the two appointed by the President to assist him to implement the President's agenda related to his pledges to the electorate," he said
This is not the first time Moyo has seemed to pour cold water on Mnangagwa succeeding Mugabe, as last year he said the Vice-President had been appointed and not anointed.
The Information minister said anyone who wanted to succeed Mugabe would have to win the hearts and minds of the electorate, reiterating the point that a successor was not appointed, but rather should be voted in.
Mugabe's nephew Patrick Zhuwao, a Zanu PF central committee member, also agreed with Moyo that succession was far from over. The nature of infighting is set to take a new twist with Gokwe-Nembudziya legislator Justice Mayor Wadyajena, reportedly a key ally of Mnangagwa, warning that an ambitious cliqué in Zanu PF would be kicked out if they do not reform.
Addressing a rally in his constituency on Sunday, Wadyajena said a cliqué of power-hungry "gay gangsters" had infiltrated the party and were plotting Mugabe's ouster.
He also claimed they wanted to have homosexuality recognised as a human right.
Without identifying the "gay gangsters", Wadyajena said the top leadership was keeping the ambitious cabal in check and would not hesitate to pounce on them.
"Yesterday (Saturday), I was in Kwekwe with the Vice-President Cde Mnangagwa. I think you have read in the Press about the problems taking place in Harare over some candidates, he said that the party is watching some people making mistakes, but it's a matter of time before they deal with them," he warned ominously.
"He said: 'Don't think that you are clever when you see the party quiet while you are making mistakes and not taking heed of the advice being given, it's just one day that it shall discipline you'. So I am saying don't be ambitious like some who think they are clever.
"Don't ever think that you are more powerful than the party. There are people who have always been loyal to the leadership and have contributed a lot to it."
Expelled Hurungwe West legislator Temba Mliswa has previously claimed Zanu PF had been hijacked by "gay gangsters".
Recently, war veterans said some unnamed Zanu PF members, with direct inferences to political commissar Saviour Kasukuwere, were supping with the West and plotting to unseat Mugabe.
Kasukuwere shot back, saying some ex-freedom fighters were "drunkards".
Wadyajena, often credited with being the pioneer of the anti-Mujuru campaign, said the war veterans were not drunkards, but instead, the person who described them as such was the "master drunkard and should be banished".
"We respect our war veterans and we will not allow them to be insulted," he said.
"The person who said they are drunkards, he is the one who is a master in that.
"He is a double drunkard."
Wadyajena was unrelenting in his attacks, taking his denunciation to the unnamed "gay gangsters".
"In the party, we have some people now referred to as gay gangsters. Let this be known here: If there are youths here who are part of that cliqué, they must stop it," he charged.
"Please, as youths, you must be disciplined and what you have done here is commendable."
In the aftermath of the Mujuru purge, it was believed that Zanu PF had healed factional battles, but with recent events, it seems the schisms are deeper.