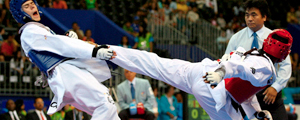 ALL is set for the Korea Ambassador Taekwondo championships scheduled to kick off tomorrow at Prince Edward.
BY SAKHELENI NXUMALO
This year's edition will have foreign flavour as participants from as far as Mozambique will take part.
Zimbabwe Taekwondo Federation (ZTF) president Benson Zwizwai said the tournament would be used as preparation platform for the All-Africa Games which are set for Congo Brazzaville in September.
"Essentially this is a national championship, but as you know we are getting ready for the All-Africa Games and this tournament will provide a platform for our team to prepare," Zwizwai said.
"Our colleagues from Mozambique are in the same situation which is why they have decided to send a team to participate and we are happy to welcome them."
The Mozambicans have communicated that they will send a team of 15 athletes to the two-day tournament that is scheduled to get underway tomorrow afternoon and run until Saturday afternoon.
Local Taekwondo practitioners from five of the country's provinces — Harare, Bulawayo, the Midlands, Mashonaland West and Mashonaland East will battle for honours in three categories — Kiopa (kicking demonstrations), Poomsae (group demonstrations) and Kyorugi (fighting).
Zwizwai said prior to the tournament the Zimbabwe Taekwondo Federation would hold their annual general meeting (AGM) which was supposed to be held in December last year.
The meeting will be used to amend the ZTF constitution and to elect a new executive.
The Korea Ambassador Championships are bankrolled by the Embassy of the Republic of Korea and Zwizwai said their wish was for the tournament to be held annually.
"We are very happy with our collaboration with the Korean embassy and much grateful for the support they have given us," he said.
"This is the first time we are having the championships since the coming in of the new ambassador and we will try and negotiate for the games to become an annual event.