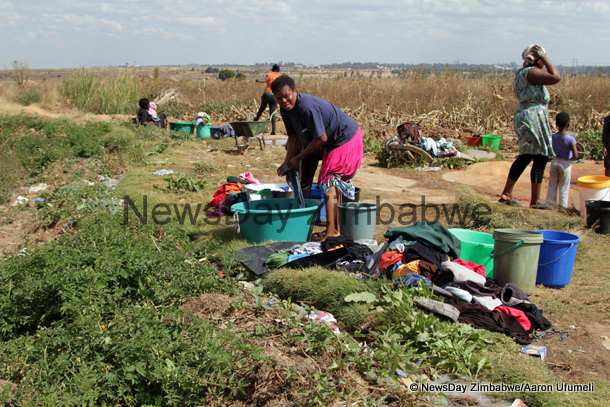 Petty Phiri (76) walks slowly as she balances a 20-litre water container on her head at Mabvuku Hall while also carrying a plastic bag with a few vegetable leaves of the chomolia type.
BY VENERANDA LANGA
It is a pitiful sight and schoolchildren — some of them as young as seven — are also seen jostling at a water queue at Mabvuku Hall trying to get an early turn to get water from the borehole in order to rush to afternoon classes (hot sitting).
Several drums and 20-litre water containers can be seen lined up at the bush pump borehole which releases water at a very slow pace.
According to residents, Mabvuku, an old suburb built during the 1950s and extended during the 1970s expanding into New Mabvuku, has now experienced a painful 15 years without tap water.
Watch video here:
A resident from Nyarame Street Caleb Ndarama said residents were now very much exposed to waterborne diseases due to failure by local authorities and government to ensure they enjoyed their rights to water.
"We last had continuous supply of running water 15 years ago, and now when it comes — maybe two days per month, the water will be very dirty that we are afraid to use it even to wash clothes," Ndarama said.
"Residents actually prefer borehole water because it looks cleaner, although we have to suffer issues like having to spend hours queuing for turns to fetchthe water."
Chipo Muzhandu of Mabvuku Drive who was at the water queue said women suffered most due to lack of running water at residences in Mabvuku.
"For women, lack of water is a big problem because we do not feel comfortable to seek water in the morning without having first taken a bath. Everyone knows that women have issues like menstruation and one can imagine how that woman survives without running water in their taps. What it means is that the woman ends up coming to fetch water at the boreholes without having bathed or properly disposed of their sanitary wear," she said.
Mazhandu said lactating mothers also experienced difficulties in that they had to wash nappies for their babies.
"We end up reusing water. After taking a bath, we use the water to wash nappies and that is the same water that we also use to flush toilets. When one washes dishes, we do not throw away the water so that we can reuse it," she said.
Jabulani Magezi said they were exposed to diseases because they reused water for different household and bathroom chores.
"Unicef has mounted some water tanks to assist residents. However, these water tanks open very late after 11.00 o'clock in the morning. What it means is that most residents go to work without taking baths first. Schoolchildren are also affected because they have to fetch bathing water before they go to school," Magezi said.
However, most people feel that introduction of pre-paid meters will severely affect the rights to water of most poor people who live in suburbs like Mabvuku.
Combined Harare Residents' Association Mabvuku coordinator Joselyne Manyeruke said Mabvuku residents should refuse imposition of water prepaid meters. "Why would they want to put pre-paid water metres in Mabvuku when we have not had running water in our taps for 15 years? That is corruption. What will we be pre-paying for?" Manyeruke queried.
She alleged fetching water during odd hours has resulted in some women and girls in Mabvuku falling pregnant after falling in love with men at water queues.
Manyeruke said a water dealers sell water at 50 cents per bucket and $5 for 10 buckets of 10 litres.
"When we approached the Harare City Council to find out why they wanted to privatise water and how it was going to work at suburbs like Mabvuku they said water pumps were stolen leaving only three that are supplying the whole suburb, resulting in low lying areas failing to access tap water. We have also noticed that towards elections Mabvuku has good supplies of water. It soon disappears soon after elections," she said.
"What it means is that we are just being used by politicians whenever they want to be voted for."
Transparency International Zimbabwe lawyer under the Advocacy and Legal Advice Centre Danai Mabutho said failure to provide water to communities can be attributed to corruption.
"It means someone is not putting money that is paid by residents into ensuring there is continuous supply of water as well as servicing of water infrastructure. Therefore, Mabvuku Tafara residents should fight corruption and report everyone who engages in corruption to law enforcement bodies," Mabutho said.
Mabvuku ward 19 councillor Munyaradzi Kufahakutizvi denied reports that the local authority was considering installing pre-paid meters in suburbs such as Mabvuku which did not enjoy water supplies.
He said a pilot pre-paid water meter project will be introduced in suburbs such as Warren and Kuwadzana which have running water most of the time.
Mabvuku-Tafara MP James Maridadi said he had launched the Act Now Against Corruption campaign after noticing that lack of services in Mabvuku community was due to corruption and lack of accountability by local authorities.
"We have always highlighted to city authorities that we need water. Harare City Council got $144 million which was supposed to be used for water reticulation, but we have noted that some of the money has been diverted to other projects that have nothing to do with water provision while people are suffering," Maridadi said.