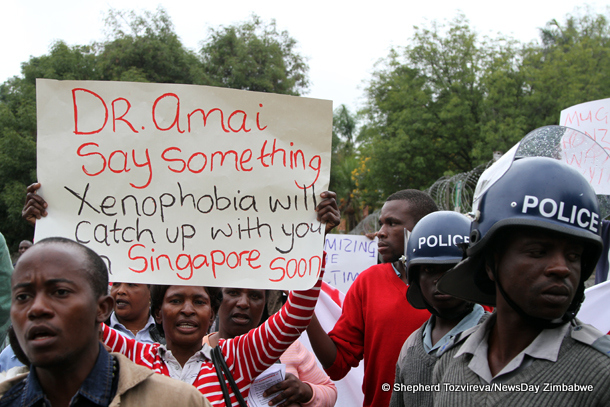 THE Ecumenical Church Leaders' Forum (ECLF) has called on government to introspect on its governance system and policies which have driven thousands of Zimbabweans into the Diaspora in pursuit of greener pastures.
STAFF REPORTER
The call follows the outbreak of xenophobic violence in South Africa last week where locals are reportedly bitter about the swelling ranks of foreigners mainly from Zimbabwe, Zambia and Nigeria, among other countries, whom they accuse of "stealing" their jobs.
"We call upon all countries with victims in South Africa to reflect on their own governance and internal policies to take corrective measures to avoid migration of their own people only to become victims of such brutal attacks," ECLF said.
"We call upon the government of Zimbabwe to specifically advise the nation of all concrete steps being taken to protect the interests of Zimbabweans within South Africa."
Xenophobic attacks came after Zulu King Goodwill Zwelithini told a recent meeting that foreigners should leave South Africa as they were taking employment opportunities from locals.
Over seven foreigners have been killed so far in xenophobic violence which began in Durban on March 30 before spreading to Pretoria and Johannesburg.
The call by ECLF comes as the Zimbabwe Congress of Trade Unions (ZCTU) blamed "bad policies" for the influx of Zimbabweans into South Africa.
"It is painful to note that most of those under siege in South Africa are workers who were retrenched as companies closed down due to bad policies of the Zimbabwean government," said Japhet Moyo, ZCTU secretary-general.
Companies are retrenching and closing shop due to the harsh economic environment. Over 600 workers have been retrenched so far this year. Last year, over 7 000 people lost their jobs.
South Africa, the strongest economy in Southern Africa, has been attracting many people from the region seeking better employment opportunities.
ECLF said it appeared as if the South African leadership lacked the will to deal with the scourge of xenophobia although it was well within its means. It urged South Africa to act swiftly to avoid genocide.
ZCTU said South Africa had failed to investigate and bring to book the perpetrators of xenophobia attacks in 2008.
"This lack of political will has resulted in the perpetrators believing that they can do anything and get away with it," it said.
Last week, the Civil Protection Unit set up a reception and support centre at Beitbridge Border Post to receive victims of xenophobia from South Africa.
The Zimbabwean Embassy in South Africa processed the repatriation papers for those displaced during the violent attacks, according to Ambassador Isaac Moyo, with seven buses set aside for the task. The buses were expected to leave Durban yesterday.
Speaking from Durban, Moyo told the Sunday News that repatriating Zimbabweans from the coastal resort in the south of the country "may take a week or so".
Earlier reports put the number of Zimbabweans wishing to return home at more than 1 500, but the figure appears to be growing.