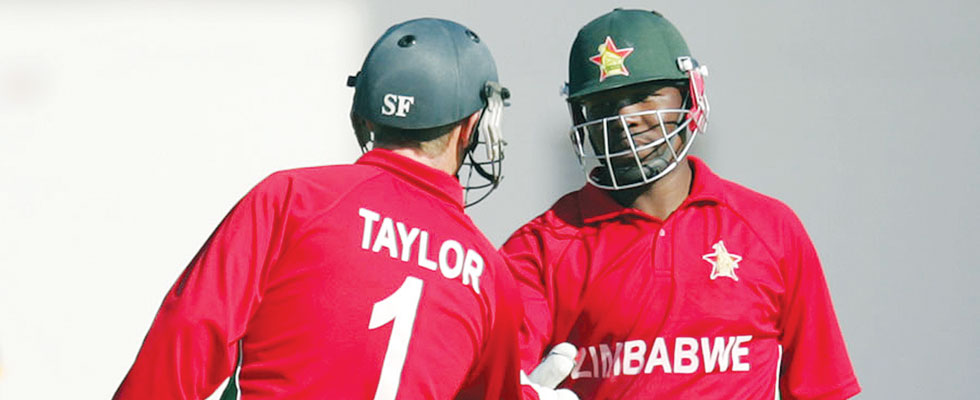 Zimbabwe vs Ireland live score update. Zimbabwe won the toss and elected to bowl. Brendan Taylor comes in for Elton Chigumbura and takes up the captain's role for the day. Taylor is under the belief that his bowlers can restrict Ireland to a low target.
Ireland now on the fielding end of the innings started well to restrict the Zimbabwean batsmen. Chibhabha finally got Zimbabwe going as he smashed Mooney off for two boundaries in the third over. Zimbabwe can at least take pride in not conceding a wicket in the first-five overs compared to Ireland's first wicket.
While Ireland did manage to restrict Zimbabwe to mostly singles in the first-five overs, they were itching for more. That happened too! Mooney, was the first bowler to get a wicket and that of Raza. What a crucial dismissal! Soon after, Cusack joined in and dismissed hard-hitter Chibhabha. Another great dismissal, the batsman left after getting 18 runs.
Masakadza was the next batsman to depart for Kevin O'Brien to take his first wicket. Stand-in captain Taylor then came on to bat and took no time to get acquainted with Zimbabwe's mission and got himself a few boundaries.
Zimbabwe began falling apart and stumbled to their fourth wicket. It was Mire's turn to leave and what a soft dismissal it was. Sean Williams brought Zimbabwe some respite as he grabbed his half-century.
Brendan Taylor brought hope to the Zimbabwe camp after bringing up his impressive century. The century was his seventh ODI hundred. The century takes Zimbabwe to the 200 mark as well. Taylor wasn't finished as he smashed another six and four off Dockrell. Williams also joined in with a half-century of his own.
Ireland finally had enough of Taylor and dismissed him in the 37th over. Alex Cusack was the one to send the century-man packing. Craig Ervine came on to keep Zimbabwe chasing.
Ervine soon found out that he wasn't welcome to play out the innings as he was dismissed by Niall O'Brien having only scored 11 runs.
Was he out? A controversial decision saw Taylor walk back to the pavilion while the review showed that it could very well have been a six instead! Panyangara who came in to bat soon got out as well. The Batsman hit a shot high up in the air for Porterfield to catch.
Zimbabwe didn't lose hope as they continued the game with their head held high thanks to Mupariwa who came on and right-away smashed Kevin O'Brien for two fours and a six. His eccentricity with the bat took Zimbabwe only seven runs away from a win in a thrilling last-over finale.
But the pressure got the better of Chakabva and he was bowled out by Cusack. The bowler struck again to get the last wicket of Mupariwa and wrapped up the win for Ireland. Ireland were 21-1 at the end of the fifth over. Zimbabwe got the crucial wicket of Paul Stirling before almost getting Ed Joyce also dismissed, only for it to be ruled out by the umpire after a review saw the Zimbabwean fielder take it after it bounced on the ground first.
starsports.com
All-rounder Sikandar Raza came in to bowl and did not give any room for the batsmen to score. But that was not the case for bowler Tawanda Mupariwa as Joyce broke the shackles and hit a boundary between the non-striker and mid-of in the 17th over.
Zimbabwean bowler Mupariwa later missed a chance to dismiss Joyce after the batsman hit the delivery high up in the air but the bowler dropped the simple catch.
Soon after the drop, Sean Williams then came in to bowl and grabbed himself a wicket to send Porterfield walking. The batsman scooped the delivery towards Masakadza who caught well. Andy Balbirnie came in to fill in for the Irish.
An unfazed Joyce then kept going with his good performance and scored a sweet six behind midwicket off a Chatara delivery. The batman was really in the mood and went on to grab his century. Balbirnie soon joined the party with his own half-century. What a field day the Irish batsmen were having!
The Zimbabweans were growing frustrated and two drop-catches did not help their case as first Craig Ervine missed one to send Joyce packing and later Mupariwa missed a chance to dismiss Kevin O'Brien.
Joyce was finally sent back to the pavilion as Ervine atoned for his earlier mistake by taking the catch this time. Joyce scored 112 runs in the innings.
Kevin then got dismissed for a hasty shot and was caught by Chakabva.
Ireland then got over the dismissal of Joyce and reached the 300 mark with some great batting by the rest. Gary Wilson began a fall in wickets when he tried a smack at cover point where Chakabva caught his attempt. The batsman left after getting Ireland 25 runs.
John Mooney came on and pushed for more runs and scored two fours. But the player got too greedy and was bowled out by Sean Williams when he tried to get his third boundary.
Niall O'Brien was then dismissed after Panyangara caught his attempt at third man.
Greed got the better of Ireland again and this time it was Balbirnie who unfortunately left. The batsman was caught outside while taking a second run. Ireland set a target of 332.
Ireland innings: 331-3 in 50 overs (Joyce 112, Chatara 3-61)
Zimbabwe innings: 308-8 in 48 overs (Chakabva 16, Mupariwa 0)
Related Topics