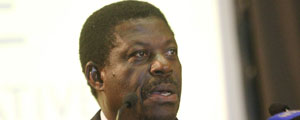 INDUSTRY and Commerce minister Mike Bimha says there is need for Parliament to create a standing committee to take recommendations on industry to Cabinet to speed up the implementation of policies.
BY OUR STAFF
The move comes at a time when there is inertia on implementing policies.
"We also made recommendations that we want the ad-hoc inter-ministerial committee on industry and commerce to become a standing committee so that it will take recommendations to Cabinet on adopted resolutions on industry," Bimha yesterday told the Parliamentary Portfolio committee on Industry and Commerce.
The committee is chaired by Masvingo Central MP Edmore Mhere.
Bimha said there was also need to amend the Incomes and Pricing Commission Act to come up with a new institution, the National Competitiveness Commission. The National Pricing and Income Commission gained notoriety in 2007 when it imposed price controls on products leading to the flourishing of the black market for basic commodities.
Bimha said the duties of the new commission would be to monitor the competitiveness of local industries and find out a plethora of issues affecting industry.
The committee wanted to know the progress made by Bimha's ministry in implementing Cabinet decisions on measures towards the performance of industry. Bimha said a number of setbacks such as cost of labour, power, unavailability of finance, transport challenges, tariffs, levies and licences among others were affecting industry making it uncompetitive.
He said his ministry had hired private researchers and the study showed that Zimbabwe was more costly as compared to neighbouring countries.
"For example, wage levels were found to be the highest. Zambia, Mozambique and Botswana were cheaper, Mozambique by 42% and Zambia by 53%. Financial costs remain way above the region at an average interest rate of 28% per annum, which is nearly double that of Mozambique," he said.