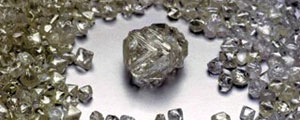 ZIMBABWE is endowed with natural resources and whenever fresh mineral deposits are found, promises are made to the community that their days of unemployment and hunger are over.
by Teddy Mkwesha
According to a report titled The Mining Sector in Zimbabwe and its Potential Contribution to Recovery by Tony Hawkins, Zimbabwe possessed rich platinum, gold, diamonds, methane gas, asbestos, nickel, coal and chromite deposits that were enough to generate $2 billion export earnings annually "upwards of $5 billion a year within 15 years" thereby ensuring that mining remained the country's largest export.
When the Marange community discovered that God had "blessed" them with diamonds, they thought that their woes were over.
Arnold Mhlanga, a former Marange resident who has since been relocated to Arda Transau Farm, recalled his shortlived joy. "We thought that we were going to be the sole custodians of the resources. I personally thought that I would send my children to school from the mining of the precious minerals," he said.
"Since the government champions local empowerment, as a community we were convinced that our employed youths will be employed by major mining consortiums."
For him, the discovery of the precious mineral became a curse as their new home was no more than a wasteland.
"We left the graves of our forefathers in Marange. Our social fabric has been disintegrated and we don't have enough grazing land for our livestock," he said.
During the period 2009-2011, the mines relocated 700 families from Marange to Arda Transau, a sprawling settlement about 40km north of the rich diamond fields.
Elsewhere, in Hurungwe, when gold was discovered along Tengwe there was an influx of illegal miners who came equipped with all kinds of vice.
Headman Nemakate (Jerald Mukumba) in Hurungwe said since the discovery of gold, there has been an influx of illegal gold miners in the area straining the community's meagre resources. "We have been receiving people as far as Gokwe and Sanyati who camp in the river for months. These people are involved in all kinds of illicit dealings.
"Our cattle have been disappearing and we strongly suspect that these people are behind the theft. Prostitution is also on the rise," said the headman.
Headman Nemakate appealed to government to regularise the mining activities in the area.
"As a community, we are not benefiting at all. These Korokozas (panners) are arrogant and bullish. They do what they want here and they do not respect our tradition," he said.
"We do not do work on Thursdays because it's a sacred day to us (chisi), but the panners do not heed our calls."
He said that pupils were also absconding lessons to be involved in mineral panning.
Villagers in Mashayamvura Village along Tengwe River said there had been an upsurge of "mysterious" illness and they suspected that it was caused by drinking contaminated water from the river.
"Many children are falling sick in this area. Even adults are being diagnosed with severe stomach pain and we strongly suspect that it is because of the drinking water," said Enock Muwonde, a villager in the area.
A nurse at a local Chinhere Clinic said they have also witnessed an upsurge on water borne and skin diseases.
"There are many cases of people coming at the clinic complaining of water borne and skin diseases and our tests show that they have been drinking in contaminated river," she said.
The communities where minerals have been discovered have also blamed the mining companies for polluting rivers in the area they operate.
Sample tests done by Biological and Chemical Science Institution on behalf of Zimbabwe Environmental Lawyers Association (Zela) on two major rivers in Manicaland, Save and Odzi showed that the rivers are polluted and the communities are at risk of contracting diseases.
The results, according to Zela coordinator Shamiso Mtisi indicated that diamond mining operations have resulted in massive siltation, chemical and heavy metal pollution of Save and Odzi Rivers, with turbidity and total solids exceeding the recommended World Health Organisation (WHO) standards.
Even the colour of the water in the river has turned into red ochre. This shows the water has been contaminated and there are chemical reaction taking place in the rivers, Mtisi said, adding that if corrective measures were not taken, the communities were at risk of contracting diseases.
"When in contact with the skin, the water and mud cause an itching sensation. The report indicates that levels of heavy metals showed high concentrations of iron, chromium and nickel in the water. "These elements are the major constituents of ferro-silicon (FESI) a chemical compound used in diamond extraction processes. Chromium and nickel are potentially carcinogenic agents (cancer causing agents) and therefore they pose an immediate health risk to people and livestock."
The report also noted that community was at risk of poisoning. "The high levels of iron in water suggest that the local populations could be at risk of iron poisoning, as they exceeded stipulated WHO standards. Similarly, pH was in the high alkaline range as well as Chemical Oxygen Demand (COD)."
Under Statutory Instrument 6 of 2007 — effluent and waste disposal — companies and individuals could face a fine or jail term or both for polluting the environment.
Save River is one of the major inland water body in the country and it is a source of livelihoods in Manicaland Province.
The imposing river is a source of recreational for the fun starved people of the diamond rich province.
The river, one of the few that do not run dry all year round is also a source of water for animals in the area.
"It is a source of livelihood for everyone here. Farmers need the river to water their gardens. Fishermen spent most of the time in search of that extra protein.
"Children also play in the crocodile infested river and they have mastered the art of avoiding the dangerous reptile. Women do their laundry," said Munodiwa Dhliwayo of Chipinge South.
The pollution of Save and Odzi rivers has adversely affected the sources of livelihoods for communities that live along the river in four Districts namely Chipinge, Chimanimani, Buhera and Mutare West (Marange communal lands).
The case of polluted rivers is also rampant in Matabeleland North Province. A wildlife conservationist in Gwayi, Watson Hugg, also raised concern over mining companies that were emitting hazardous substances that had the potential of contaminating water bodies.
He said companies should be stopped from operating because people and animals were at risk.
The chairperson of Gwayi/Shangani Catchment area Langton Masunda said more needs to be done to avert an impending environmental disaster if the mining companies operate without proper guidelines.
"An environmental disaster is looming in areas where these mining exploration firms are operating. We suspect these companies are operating without waste management plans. Most of the rivers in the area have been polluted," he said.
Chief Dingani Nelukoba said River Deka has also been polluted because of the mining activities taking place at its river bed.
"There are no more fish in Deka River and at the same time trees are vanishing every day. The mining companies are now many – and they are causing a lot of damage," said the chief.
Farai Maguwu, the director of the Centre for Research and Development, a non-governmental organisation which has been calling for transparency in the mining and selling of Marange diamonds, says he has been receiving a lot of complaints from villagers about pollution in the areas.
Maguwu said the government and organisations such as the Environment Management Agency (EMA) must prioritise the situation in these communities to save lives.
The pollution has deprived communities of clean and unpolluted water for drinking, gardening, fishing, livestock watering, bathing and other primary uses.
Last year, Mines and Mining Development minister Walter Chidhakwa and the Ministry of Environment, Water and Climate directed firms to cease operations along rivers.
"We have directed permanent secretaries in my ministry and the Ministry of Environment, Water and Climate to immediately stop mining operations that are taking place along river banks," Chidhakwa said.
However, most companies are still operating along Mazowe River in Mashonaland Central and Angwa River in Mashonaland West.
EMA spokesperson Steady Kangata said the organisation was concerned that large amounts of harmful chromium increase people's exposure to skin rash or sores.
"If swallowed, some chromium compounds can seriously damage the throat, stomach, intestines, kidneys, and circulatory blood system," he said.
He said EMA would continue to monitor levels of pollution from these mines.