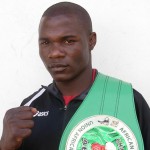 ZIMBABWE'S two-time World Boxing Council (WBC) welterweight champion Charles Manyuchi will be defend his WBC International title against David Avanesya of Russia later this year.
SPORTS REPORTER
Manyuchi's manager, Zambian Christopher Malunga, who runs the Oriental Quarries Boxing Promotions stable, confirmed the upcoming fight, but said the dates and venue for the fight were yet to be finalised.
Malunga said Manyuchi's fight would take place on the same day, top Zambian female boxer Catherine Phiri will challenge for the WBC bantamweight title against Caroline of Chile.
"I was in Las Vegas lobbying for opponents for Catherine (Phiri) and (Charles) Manyuchi and I am glad that we were able to find Carolina from Chile who is also challenging for the main title and David (Avanesya) from Russia who wants to challenge our boxer," said Malunga, who attended the WBC Convention, held in Las Vegas in the US last month.
Manyuchi, who was last month named the country's Sports Person of the Year after another successful season told NewsDay Sport in an interview yesterday that he was ready to defend his title again, declaring 2015 as his year.
"I will be ready to defend my title," declared Manyuchi, who is currently in the country on holiday. "At the moment I don't have much information on my opponent but I'm confident that he will just come and return home empty handed after the fight.
"I have defended my title twice already and now that I have no doubt I will to do it for the third time. I started my preparations last week and I want to say to all my fans that 2015 is my year," he said.
The 26-year-old Masvingo–born pugilist was the country's most successful in 2014 after defending his WBC international welterweight title last November after a third round knockout victory over Devis Caceres of Colombia at the Government Complex in Lusaka, Zambia.
He had earlier on in March won the same title after beating respected Ghanaian Patrick Allotey at the same venue.
Manyuchi is under Zambian stable Oriental Quarries Boxing Promotions, who fully cater for his training with no help coming from the Zimbabwean government.
His next challenger Avanesya has a record of 21 fights from which he boosts of 19 wins (nine via knockouts), one loss and draw.
Avanesyan, who like Manyuchi is aged 26 last fought against Hungary's Laszlo Fazekas, winning the fight in a split points decision at the Titanic Hotel in Liverpool, England on December 12.