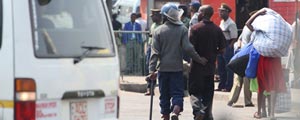 A video of a young woman being manhandled by touts in Harare's central business district (CBD) has gone viral.
NewsDay Editorial
This incident is a sad reminder that male chauvinism still pervades our society disturbing many peaceloving people.
We condemn the attack and it should be condemned in its strongest terms because this is a serious violation of human rights.
Some women may now fear to go about their business in the CBD because they are not sure whether the clothing they are putting on will not attract the ire of sick-minded individuals. One wonders who dictates what is good or bad clothing for women?
Women have the right to wear whatever they want without fear of victimisation, but it would seem as though this problem is a trend bedevilling many African women in sub-Saharan Africa and beyond.
Recently, South Africa experienced similar incidences which resulted in Cabinet ministers and Gauteng province premier protesting in the streets.
Why are Zimbabwean politicians mum over this social ill, when it comes to the abuse of women in society?
SA Women minister Lulu Xingwana actually threatened to close down a taxi rank if such harassment continued.
Why can't our Gender ministry publicly condemn this act because if this not put to a stop, there is no doubt that we will experience many of these attacks on defenceless women?
It is regrettable that some men argue that women in miniskirts arouse them resulting in them ending up raping them.
But that is a flimsy excuse because we have heard of cases about toddlers and elderly women having been raped.
What is so provocative or sexy about a toddler in nappies or an old woman in a long dirty dress walking home from a well?
Rape is committed by men who feel they have power to humiliate women into submission.
There is no doubt that men who terrorise women at these taxi ranks suffer from a serious inferiority complex and hence vent their frustrations on vulnerable and innocent young women going about their business.
An idle mind is the devil's workshop, goes the old maxim. By not using their time productively, these touts are tempted to meddle in other people's business by standing in their way.
Not only do they become idlers, but also gossips and busybodies. They are the same characters unleashed by politicians as militias against their opponents in the event of an election.
Sadly all these social ills are a result of the ruling Zanu PF failing to create the 2,2million jobs they promised in the run up to last year's harmonised election.
But 18 months down the line President Robert Mugabe and Zanu PF are clueless on how to revive the economy, otherwise these social ills could be far-reduced to date.
So, the youths' lack of activity is leading them into these anti-social behaviours detrimental to society.
In the same breadth, women should also note that clothes are meant to protect their dignity, to look presentable and to impress, and not necessarily show their bodies to strangers.
Women should be able to gauge what kind of audience they are dressing for not just about everyone in the streets.
We call on the Police to deploy plain-clothed women cops in miniskirts to deal with this menace once and for all.
Women MPs, and of course Zanu PF secretary for Women's Affairs First Lady Grace Mugabe should also address this matter urgently. Silence from our politicians is indeed worrisome.