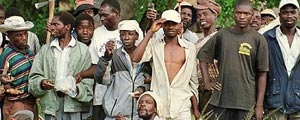 PRESIDENT Robert Mugabe has routinely used veterans of the country's 1970s liberation war to keep himself in power, particularly after the emergence of a vibrant opposition in the form of the MDC in 1999 during which the ex-combatants instilled fear in those opposed to Mugabe's continued stay in power. Phillip Chidavaenzi
Firebrand former war veterans' chairman Jabulani Sibanda, however, posed a serious threat to the status quo after refusing to be anybody's lapdog when he danced to a different tune.
Sibanda refused to throw in his lot with First Lady Grace Mugabe, who is the incoming Zanu PF Women's League boss, compelling Mugabe to call for a leadership reshuffle in the war veterans' body.
The turn of events saw the appointment of Foreign Affairs deputy minister Christopher Mutsvangwa as the new Zimbabwe National Liberation War Veterans' Association (ZNLWVA) leader at the weekend.
The development was described by political analysts as a strategic move meant to ensure the country's war veterans would remain loyal to Mugabe.
Analysts who spoke to NewsDay yesterday said the development worked in the favour of a Zanu PF faction believed to be led by Justice minister Emmerson Mnangagwa. The faction is reportedly contending for power against another faction said to be led by embattled Vice-President Joice Mujuru.
University of Zimbabwe political scientist Professor Eldred Masunungure said war veterans in the country have traditionally been used as "weapons in power struggles" and have been roped in to throw their weight behind the Mnangagwa camp.
"The war veterans' association has been used as weapons in power struggle, either against the (opposition) MDC–T or, as in this particular case, Zanu PF against itself," he said.
The ex-combatants who fought in the country's 1970s liberation war successfully forced Mugabe to concede to their demands for compensation in 1997, after which they were transformed into a key player on the country's political scene.
They have since been transformed into a vital cog of the ruling party's machinery particularly during the election years 2005, 2008 and 2013 during which they intimidated, beat up and in some cases even killed opposition party supporters they accused of "seeking to sell out the country to the West".
Masunungure described the war veterans as "useful instruments" in Zanu PF's internecine fights in which their support could be easily bought.
"They are useful instruments to advance certain interests in the party, willing to offer their services to the highest bidder. They go where the wind is blowing," he said.
War veterans have waded into the party's succession matrix, calling for the resignation of Mujuru in a development described by outspoken politburo member and former Midlands governor Cephas Msipa as unacceptable.
Msipa said at the weekend war veterans had no right to insult the party leadership because the ZNLWVA was just an affiliate member and had no right to direct the party's affairs.
"He (President Robert Mugabe) knows that Zanu is a party and war veterans are an affiliate of Zanu PF. "There is need to respect leadership. The leadership is not just Comrade Mugabe. We have a Vice-President, ministers and members of the politburo who should be treated with respect. It's not a one-man affair," said Msipa, adding that war veterans had no business to instruct members of the Central Committee and Politburo.
Following Mutsvangwa's recent attacks on Mujuru and her alleged ambitions to topple Mugabe, director of Leadership Institute for Transformation and Social Change Godwin Phiri said his appointment to lead the war veterans could have been a reward.
"It is a reward on the one hand and on the other, it could be a deliberate strategy to ensure that the (party) structures do not deviate," he said.
Phiri observed that traditionally, the war veterans had always been useful in the party to defend and protect certain interests and in the current case they had a role to ensure that VP Mujuru was stopped in her tracks.
"Mutsvangwa will have to ensure that the war veterans' association reinvigorates itself by ensuring that elements that harbour any love for Mai Mujuru are curtailed," he said.
He said the war veterans were critical pillars in the party and the top position in the association had to be held by a loyal cadre and Mutsvangwa was deemed to fit the bill, having been at "the forefront of challenging the Mujuru faction".
Phiri said there were likely to be re–alignments in the association from the district level, with unwavering members occupying the top posts.
Phiri, however, said Mutsvangwa's new position came with other obligations, particularly ensuring that the war veterans' welfare was guaranteed and prioritised.
"Apart from ensuring the loyalty of the war veterans (to Mugabe), he will also have to address their social issues, deal with their pensions issue and ensure that they are happy," he said.
Masunungure concurred saying the war veterans were likely to keep Mutsvangwa on his toes, particularly considering that their new chairman was in government.
"He needs to address once and for all the perennial problems that the war veterans have always agitated over, like the improvement of their living conditions, their welfare and allowances as well as other benefits," he said.
He noted that it was unlikely that the war veterans were going to offer their support free of charge, but there was to be some kind of trade–off.
"He needs to deliver after the congress, otherwise these issues may become a source of friction," Masunungure said.
Zanu PF congress will be held in Harare in a fortnight. Mutsvangwa, whose mobile phone was not reachable yesterday, told NewsDay last week that he regarded serving the war veterans' association as an honour.
"I can't ever say no to serving in any role fellow war veterans may desire of me. It's an honour to living survivors of war veteran and homage to the dead ones. It's (leading war veterans) something I take seriously than any other assignment," he said.
The ZNLWVA, which has been instrumental in ensuring that Zanu PF wins elections since 2000, last had congress in 2003.
The war veterans also led in the invasion of white–owned commercial farms in 2000 after pressurising Mugabe to give them the land they claimed to have fought for during the liberation struggle.
They also played a critical role in intimidating opposition party supporters since the formation of the MDC, which they accused of seeking to hand over the country back to the colonial masters.
Prior to his death, liberation war fighter Wilfred Mhanda said the war veterans had become a household name for the wrong reasons.
In a paper he presented at the SAPES Trust Policy Dialogue Forum in Harare on April 7 2011, the former commander of the Zimbabwe People's Army (Zipa) and founder of Zimbabwe Liberators Platform said the former fighters were weaned off from their parent political parties Zanu and Zapu.
"Their welfare became the responsibility of the new Government of Zimbabwe and not of their former mother parties. Any links with the political parties could only now continue in terms of individual membership of those political parties," he said.
Mhanda noted that the violence, anarchy and lawlessness which became synonymous with the former liberation war fighters were attributable to government's failure to implement "a sound, sustainable policy of demobilisation" that catered for their welfare.
He said the ZNLWVA was formed in 1990 to cater for the welfare of war veterans with Justice Charles Hungwe as the founding chair. He said there despite external resistance, the association was formed as a political and bureaucratic establishment after which, two years later, the War Veterans Act was enacted.
"The government was under pressure with its back against the wall first from the war veterans' demands for payments and civic demonstrations for a new constitution that soon gave birth to a new vibrant labour opposition party," he said.
He recalled how the government enlisted the help of war veterans "in brutally suppressing NCA (National Constitutional Assembly) demonstrations in 1998 marking the first partisan political involvement of the former fighters since independence in 1980".
Analysts contend that the coming-in of Mutsvangwa would ensure that the war veterans remained true to form and acted at Zanu PF's bidding.