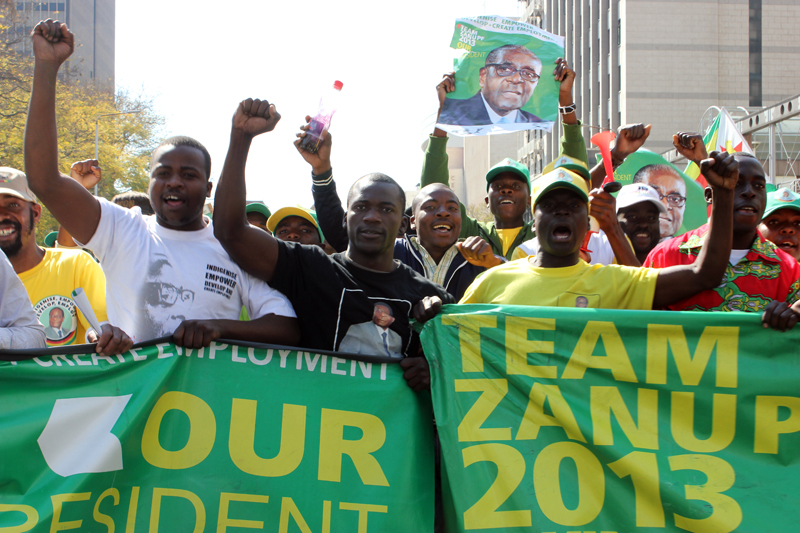 ZANU PF yesterday expelled war veterans' leader Jabulani Sibanda and suspended party spokesperson Rugare Gumbo as the bid by Vice-President Joice Mujuru to retain her post as President Robert Mugabe's second-in-command suffered a major blow.
MOSES MATENGA STAFF REPORTER
The politburo also upheld the suspension of four provincial chairpersons — Amos Midzi (Harare), Killian Gwanetsa (Masvingo), Jason Machaya (Midlands) and Matabeleland South's Andrew Langa.
Another Mujuru ally, Manicaland provincial chairman John Mvundura, was given a written reprimand.
The suspended chairpersons are linked to the faction led by Mujuru.
Mujuru and Justice minister Emmerson Mnangagwa lead factions angling to succeed Mugabe.
Party national chairman Simon Khaya Moyo assumed the role of spokesperson immediately after Gumbo's suspension and apprised journalists late last night of the developments.
He, however, would not take questions.
"I want to say that I am speaking to you not just as national chairman of the party, but also as spokesperson of the party from today," Khaya Moyo said.
The meeting, Khaya Moyo said, discussed the state of preparations for the December 2 to 7 congress and received reports from the chairpersons of the provincial co-ordinating committees set up a few weeks ago.
"After extensive discussions by members of the politburo, far-reaching decisions were taken and they are as follows: Cde Rugare Gumbo has been suspended for five years with immediate effect. Cde Enock Porusingazi, who is a central committee member, has been suspended for five years from the membership of the party," Khaya Moyo said.
"Cde Jabulani Sibanda has been expelled from the party. At provincial level, Cde Andrew Langa of Matabeleland South has been removed from the provincial executive council and as chairman of the province.
"Cde Callisto Gwanetsa of Masvingo has had his vote of no confidence upheld. John Mvundura of Manicaland has been given a written reprimand. Cde Jason Machaya has had his vote of no confidence on him upheld. Amos Midzi has had his vote of no confidence also upheld and Godwin Gomwe (Harare youth leader) has his case pending with the national disciplinary committee which is still seized with the matter," Khaya Moyo said.
Khaya Moyo said the vote of no confidence passed on Masvingo chairlady Shylet Uyoyo had also been upheld together with that of C Bhasikiti.
In the Youth League, Oliver Huruva had his vote of no confidence also upheld together with that of Tongai Mangomana.
Gumbo, who left the meeting early, told NewsDay last night that he would follow developments from the sidelines.
"I will watch developments from the terraces," Gumbo said.
Analysts said last night's developments meant that Mujuru has a tough task to retain her position.
Mujuru has been under incessant attacks from Mnangagwa's faction which recently roped in First Lady Grace Mugabe in its final assault on Mugabe's second-in-command.
During her "Meet the People" rallies, Grace said Mujuru should either resign or apologise to Mugabe for allegedly plotting to topple him.
Grace also labelled Mujuru, power-hungry, corrupt and unfit to hold the VP position.
The latest developments come at a time Mujuru allies have been subjected to verbal and physical attacks, with former Harare youth leader Jim Kunaka nursing injuries sustained after he was abducted on Wednesday.