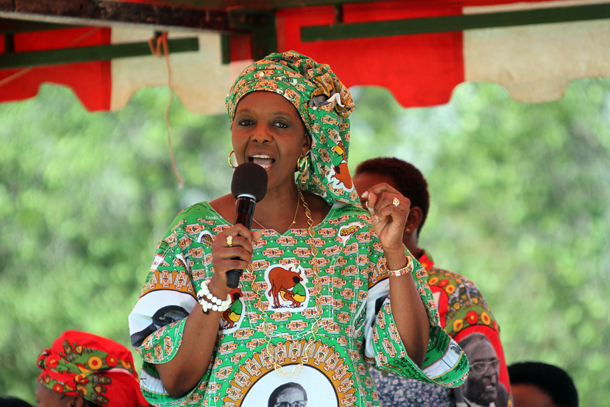 First Lady Grace Mugabe yesterday continued with her tirade against Vice-President Joice Mujuru, describing her as an inept leader and making sensational claims that opposition parties MDC and Simba Makoni's Mavambo were formed in her house.
Addressing about 4 000 party supporters at Rudhaka Stadium in Marondera where she winded up her "Thank You Rallies", Grace also launched a ferocious attack on Zanu PF Mashonaland East provincial chairperson Ray Kaukonde for allegedly fuelling factionalism in the province.
Grace's address came after drum-beating youths threatened to disrupt the rally until all those who were chanting the "Down with Gamatox" slogan revealed who they were referring to as Gamatox.
Maintaining that Mujuru was corrupt, benefiting from illicit diamond deals and extorting companies, Grace said the former connived with the MDC-T to try to stop elections last year.
She said one year after Zanu PF and President Robert Mugabe's resounding victory, Mujuru was now involved in covert deals to unseat the veteran leader.
"I said that the demon of factionalism started in Mashonaland Central," Grace said. Mujuru hails from Mashonaland Central province.
"And to that same person (leader of the faction) I was referring to yesterday (Thursday), the MDC was started in your house, Mavambo was started in your house, corruption was started in your house and factionalism was started in your house."
She added: "You say Amai Mugabe is corrupt, when you control diamond mines and extort companies. That is why you say Zanu PF has been infiltrated when people talk of corruption. You think ministers are above the law? No one is above the law!"
Grace lashed out at Kaukonde for saying that there was no factionalism in Mashonaland East province.
She accused Kaukonde of using his money to fuel factionalism and chided the same for supporting an "inept" leader who could not stand against Mugabe.
"When you support a person, you should look at his leadership qualities. You are being used by someone who does not have leadership qualities, a leader who wants to inherit a divided party," Grace said.
The First Lady said she was disappointed with Kaukonde who "faked" to love her in her presence, but criticised her when she was not around.
Grace revealed that it was this alleged duplicity of Kaukonde that forced her to almost punch him in 2008.
"You are the chairperson of the province. We have to tell you to behave. You must stop it," fumed Grace.
"You are my husband's child. Why are you doing this? We used to go along very well, but no longer today. Do you want us to have a unity accord?" Grace proposed, to which Kaukonde, who looked uncomfortable in his chair sitting next to outgoing Women's League boss Oppah Muchinguri, refused.
Grace's attack on Kaukonde came after youths from the province caused a scene, beating drums and threatening to disrupt the rally if the identity of Gamatox was not revealed. Police had to intervene to quell the commotion.
Trouble started when some youth who had been travelling with Grace in all the provinces demanded that the Mashonaland East province youths respond to the "Down with Gamatox" slogan, which is seen as an attack on Zanu PF secretary for administration and Manicaland political godfather Didymus Mutasa. The youths refused to comply, resulting in the scuffle.
When Grace took to the podium, she chanted the same slogan, but amidst her speech, police had to intervene again after a fist- fight broke again between some youths wearing Grace Mugabe T-shirts.
Grace called for unity within the party, claiming that she had been engaged to unify the party.
She attacked Zanu PF Mashonaland East provincial youth chairperson Luckson Kandemiri for allegedly snubbing her rallies.
Kandemiri said she was not aware of Mugabe's whirlwind tours and was busy at work.
Grace ended her address by castigating journalists from the privately-owned dailies, NewsDay and Daily News, alleging that they were being paid by Mujuru and the opposition MDC-T to tarnish her image.
"How much are you paid to write bad about me? $10 000? I am going to pray for you. After writing badly about me, are you going to sleep tight? Maybe it's because of hunger, or sanctions. I have heard those who send you have shares in your newspapers," Grace alleged.
She said at the rate newspapers were allegedly keen to tarnish her, it would not be surprising that they could be yearning to take naked pictures of her in the bathroom at any slightest opportunity, going further that even others would be tempted to produce "photoshopped" pictures of her nude.