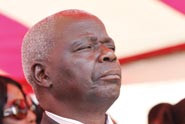 THE Zimbabwe Power Company yesterday signed a $1,5 billion deal with Sinohydro of China for the expansion of Hwange Power Station in a development expected to ease power challenges in the next five years.
VICTORIA MTOMBA STAFF REPORTER
The expansion of Hwange 7 and 8 would add 600 megawatts (MW) to the national grid.
Zesa chief executive officer Josh Chifamba said ZPC would get a $1,1 billion loan from the Export Import Bank of China with the rest of the funds expected to be sourced elsewhere.
"We will raise equity, there is interest to be paid to the bank, consultancy, Environmental Management Agency, Zimbabwe Energy Regulatory Authority and that will come up to $1,5 billion," he said.
Energy and Power development minister Dzikamai Mavhaire said the signing of the power deal was a major milestone in the country as 600MW of power would be added to the national grid through the expansion of Hwange 7 and 8.
He said the project would take 42 months to complete.
Mavhaire said the project comprised a power plant to generate electricity as well as transmission and distribution infrastructure.
He said Sinohydro opening bid in 2012 stood at $978,7 million and was adjusted to $993,8 million to accommodate omissions that were noted during adjudication.
"This current proposal by Sinohydro was adjusted further in the second submission and during contract negotiations, taking into account the need for tarred roads, additional civil works, additional costs in respect of both the power plant itself, transmission equipment and transportation and shipping.
There is alsi inflation, exchange rate adjustment and contingency," Mavhaire said.
He said Sinohydro should ensure that locals participated fully in the project.
"Do not bring a lot of Chinese engineers. We have enough engineers here," Mavhaire said.
Sinohydro vice-president for Africa region Wang Xinhuai said the company had been working on various projects in the country for the past 14 years.
"Our sincere thanks to the Zimbabwean government for awarding this tender to Sinohydro. Our presence is the testimony of hard work for us all," Xinhuai.
Hwange power station is the largest thermal station in the country with an installed capacity of 920MW.
Power cuts continue to be a problem in the country as the country requires 2 200MW.
The country cannot produce adequate power for the nation and as of yesterday only 1 203MW of power were being produced by Kariba, Hwange, Bulawayo and Munyati power stations.