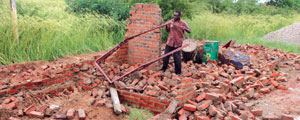 THE High Court yesterday stopped the demolition of houses in Epworth on the outskirts of Harare and accused local authorities of "sleeping on duty" while the building of the structures was taking place.
MOSES MATENGA STAFF REPORTER
In what lawyers yesterday described as a landmark ruling, Justice Nicholas Mathonsi ruled that government, police and Epworth Local Board should stop demolishing houses belonging to some Epworth residents in the Stoob area.
"There can be no doubt whatsoever in the minds of all well-informed persons that this country currently faces extremely serious problems relating to poverty, unemployment and, more importantly, housing," Justice Mathonsi said in his judgement.
"The latter problem has, in recent history, manifested itself in illegal occupations of municipal land by hordes of citizens who are without shelter and are more often than not being encouraged by a new breed of people bent on cashing in on misfortunes of these home seekers and have since been christened in common as land barons."
Justice Mathonsi said local authorities were equally complicit in letting structures to be built on illegal land.
He granted an interim relief that read: "Pending the determination of this matter, the following interim relief be and is hereby granted: The 1st, 2nd, 3rd and 4th respondents and all those acting through them be hereby interdicted from demolishing the houses belonging to the applicants and other residents and evicting applicants in the Stoob area of Epworth."
Justice Mathonsi said the applicants had built in the area and had their houses razed in September 2012 before they approached the courts. The matter was now pending in the Supreme Court.
Epworth residents in the Stoob area complained bitterly over the behaviour of law enforcement agents who were heavy-handed and beating up people while conducting their demolitions without a court order and without council providing alternative accommodation as stated in the new Constitution.
The applicants' lawyer Tonderai Bhatasara, representing the Zimbabwe Lawyers for Human Rights, said: "This confirms and vindicates our clients' position that you can't arbitrarily demolish houses."
On whether the respondents would obey the ruling, he said: "We think they will because consequences are a bit dire particularly against the respondents we have cited."
Respondents in the case are Epworth Local Board, Minister of Local Government Ignatius Chombo, Police Commissioner-General Augustine Chihuri, Home Affairs minister Kembo Mohadi and the Attorney-General.