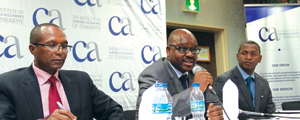 POLOKWANE — Zimbabwe is poised for growth and ready for investment, Institute of Chartered Accountants of Zimbabwe (ICAZ) president Bothwell Nyajeka has said.
BUSINESS REPORTER
Speaking at ICAZ 2014 Investor Conference at the Legend Golf and Safari Lodge in Polokwane, South Africa on Friday, Nyajeka said foreign direct investment (FDI) was key to making Zimbabwe work and increase production.
"It is our duty to do everything in our power and influence to attract investment into Zimbabwe. It is our intention as ICAZ, to use the action plans from this conference as a blueprint as we engage with the government, through the Ministry of Finance and other organisations who are also involved in the shaping of Zimbabwe's economic revival," Nyajeka said.
Speaking at the same event the Reserve Bank of Zimbabwe deputy governor Kupukile Mlambo has said the apex bank was exploring ways of attracting FDI to boost the liquidity situation in the country and support sustained economic growth and development.
Mlambo said the Zimbabwean economy was now facing serious challenges with the gross domestic product slowing down to above 3% as a result of limited financial flows especially foreign investment.
"Domestically, the economy is facing tight liquidity conditions and fiscal situation remains constrained. Export receipts, which are the major source of liquidity, have performed poorly as industry has failed to recover as a result of relying on antiquated and obsolete machinery," Mlambo said.
"Furthermore, the country has also been failing to mobilise resources from traditional creditors or from global financial markets due to external debt overhang estimated at around $9 billion."
He said the attraction of FDI remains critical in improving the competitiveness of domestic export products, reviving industrial production and the effective plugging of attendant supply gaps.