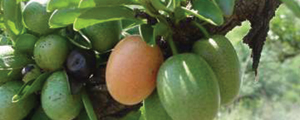 TANDO Mapungwana learned to crack the dry bark of the khaya, a type of mahogany tree, deep in Chipinge district when he was just eight years old. Tonderayi Matonho
From that, he made some traditional medicinal lime-water to cure abdominal pains and colds.
He has also gathered enough experience in turning the pulp from the hacha fruit (parinari curatellifolia) into a tasty but effective mukandabota, a kind of medicinal porridge.
Mapungwana has also discovered that he can earn a living from indigenous trees and wild fruits around the thick and pristine 940-hectare Chirinda Forest, now domesticated around his homestead.
However, the khaya and many other indigenous plants and trees are under threat from extinction due to bio-piracy and global warming and Chirinda Forest, where it is mostly found, under threat.
"Global warming, leading to climate change, bio-piracy, illegal harvesting and trading in plant and animal species are exerting a heavy toll on Zimbabwe's natural resources. There is need to strengthen national laws and promotion of small grains in dry areas of the country which are most vulnerable," Environmental Management Agency (EMA) spokesperson Steady Kangata said during a national biodiversity media tour in Chipinge recently.
Drugs at the local clinic and hospital in Chipinge town have become scarce, joining other health institutions countrywide operating "with less than 50% of the required drugs due to inadequate funding".
"There is a lot of value in rediscovering traditional medicine, its pharmacological importance and preserve local knowledge in the face of new diseases emerging," a development consultant and executive director of Community Technology Development Trust (CTDT), Andrew Mushita, said in an interview.
Vince Musewe, a renowned development economist, says: "Traditional medicine is a case of us Africans failing to develop our own drugs and marketing them. Just as we call for value addition to minerals, we have failed to develop and package our own traditional medicine.
"The West has just managed to invest money in research and taken our intellectual capital on medicines and packaged it. "We must emulate the Chinese who invest and believe in their own traditional medicines."
Zimbabwe is, meanwhile, on high alert over diseases such as Ebola, measles, cancer, cholera and typhoid.
According to medical experts, Ebola kills up to 90% of those infected and there is no cure or vaccine for it yet.
Special health experts say human consumption of equatorial animals in Africa in the form of bush meat is said to have caused spread of diseases to humans.
The World Health Organisation (WHO) has warned that the West African Ebola epidemic is an "extraordinary event" and now constitutes an international health risk as the virus was moving faster than expected.
David Parirenyatwa, the Minister of Health and Child Care, said: "There is no outbreak in the country and the Sadc region. The risk is there (of Ebola), but we have deployed contingency plans that cover most areas.
"What is important is that we vigorously educate the population on the symptoms and what to do if you do contract it."
Rutendo Bonde of the Zimbabwe Association of Doctors for Human Rights says Zimbabwe's emergency preparedness depends on support from partnerships and that should not be autonomous drawing lessons learnt from the cholera outbreak of 2008 particularly in the area of disease surveillance and local level epidemiology.
Media reports say that the health ministry requested $10 million from treasury which will be disbursed to NatPharm, the major drug manufacturing firm.
But NatPharm has only received $3 million.
Deputy minister of Health Paul Chimedza says that the government has failed to provide money for NatPharm to buy resulting in shortages at government hospitals around Zimbabwe.
"So we are looking at a different situation on how we can solve the problem. One of them is to engage companies that supply drugs so that they can create credit facilities or lines of credit through NatPharm which can procure the drugs that we want and then distribute them to the hospitals," Chimedza said.
'Rediscover traditional medicine'
However, experts assert that another way "to solve the problem" is to rediscover and bring on board traditional medicine.
"The knowledge, practice and use of traditional medicine have increased and what is required is to incorporate traditional practitioners so that they can share their intellectual knowledge, innovations and practices on traditional medicine," Mushita, an advocate in indigenous knowledge systems, said.
"This is further evidenced by the emergence of this medicine in China and the whole of the Asian region which is resorting to this knowledge and practice," he said.
From the interior region of Chipinge district, Mapungwana, now preserving most of these plants and trees on a small forest plot on the fringes of Chirinda Forest, claims that this knowledge and practice on traditional medicine was handed down through family generations.
"With other interested villagers using inherited knowledge on plant species, we have formed cooperatives and demarcated some parts of the forest land containing indigenous trees such as mahogany, figtree and mutohwe, for example, and tending them".
"There are a number of such cases in Chipinge, Chibhememe community in Chiredzi and the Chimanimani Rural District Council has formed partnerships and contractual arrangements with local stakeholders who are custodians of such information.
Such communities are farming wild fruits and traditional medicinal plants, fencing off areas where indigenous plants grow. In Buhera district, Manicaland Province, the University of Zimbabwe's Department of Biochemistry, is spearheading a project to promote utilisation of wild plant foods for their nutritional and medicinal value.
"In this project we are creating awareness on the value of indigenous wild plant foods as a survival strategy and documenting how the foods are prepared and preserved as well as their nutritional and medicinal value.
"There is no comprehensive referenced database or information source focusing on 'non-domesticated' or 'wild food plants' either for developed or developing countries," Maud Muchuweti, a biochemist in the department, said in one of the daily papers recently.
Mutuso Dhliwayo, another development consultant and director of the Zimbabwe Environmental Lawyers' Association, advocating for community rights in equitable natural resources exploitation said "civil society organisations need to lobby and advocate for the enactment of the Access to Benefit-Sharing (ABS) policy and legal frameworks".
"Through ABS, there is need to start building a strong local value chain before moving on to outlets further afield but the key challenge is to avert the risk of successful local ventures being taken over by larger entities and companies and bypassing the local poor communities," Dhliwayo said.
According to Food Plants International, a non-profit organisation covering more than 18 000 edible plant species, indigenous and medicinal plant resources are crucial for the future of medical and pharmaceutical science for the well-being of communities who are custodians of the knowledge and victims of seemingly incurable diseases.
The humid tropical forests are the world's richest regions in terms of biodiversity, but they are also the most threatened. In order to counter the threats of plant extinction, in Kenya, for instance, some local farmers and nomads have demarcated land containing indigenous fruit plants, though this sometimes triggers conflict.
Many rural dwellers tend the wild fruit farms like any other cultivated crop, weeding and clearing spaces between trees and bushes. Harvesting is often carried out by women and the fruits and plants sold to middlemen, then transported to local markets and major towns.
The Food and Agriculture Organisation (FAO), a United Nations agency, notes that wild plant foods in Tanzania can now be found in 32% of all meals while the Wollo people in Ethiopia use wild plant foods as an important part of their survival strategy of last resort.
Bio-piracy threatens indigenous plants However, another major challenge and threat to plant extinction is bio-piracy, the illegal trade in plants, involving the pillaging of millions of species each year.
Bio-piracy is now estimated to be the world's third biggest criminal activity, after arms and drug smuggling.
The growing market for natural remedies is fostering an alarming growth in illegal plant harvesting.
One species, a special root, for example, used for centuries by the Basarwa or Bushmen of southern Africa, to cure wounds and intestinal disorders is under threat through bio-piracy.
The past two decades have seen a growing interest on the part of researchers, international organisations, governments and NGOs in protecting intellectual property rights and sharing knowledge and benefits on biodiversity.
However, it has proved difficult to create adequate cross-border and cross-cultural agreements.
Legal systems are complex and sometimes inadequate.
"Therefore, there is need to consolidate agreements for knowledge-sharing by supplementing them at each stage, with more specific accords and strategies that are adapted to specific cultural contexts so that local capacities are rewarded and the people involved receive fair recompense," Dhliwayo said.
EMA spokesperson Kangata said efforts to push for a Bill on Access to Benefit–Sharing in Parliament are under way and will help curtail bio-piracy and unsustainable forest practices and dry areas such as Nyanyadzi and Matabeleland North need promotion of small grains to adapt to climate change and unsustainable forest practices.
Ministry of Environment, Water and Climate head of biodiversity, Dr Chipangura Chirara, said traditional knowledge systems, especially in relation to medicinal plants, is becoming more and more widely recognised and as a result bio-piracy will be discouraged.
"We can assist by way of moving towards the domestication of and realisation of the provisions of the international environmental instruments which governments in the region, including Zimbabwe, have signed and ratified.
"Such international instruments include the Convention on Biological Diversity, World Trade Protocol under the WTO, the International Treaty on Plant Genetic Resources, Food and Agriculture and the Nagoya Protocol," Mushita said.