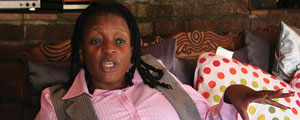 MDC legislator Priscilla Misihairabwi-Mushonga yesterday humiliated Zanu PF MPs who claimed to have fought in the liberation struggle when she told Parliament that her research revealed only 12 MPs were at the war front.
VENERANDA LANGA
She also demanded to know why female freedom fighters like Zanu PF MPs Irene Zindi (Mutasa South), Nyasha Chikwinya (Mutare South) and Mandi Chimene (Makoni South) had been left out in all literature about the liberation war.
Misihairabwi-Mushonga was contributing to a motion in the National Assembly on conferment of hero status which was seconded by another MDC Proportional Representation MP Jasmine Toffa.
"I have a problem if people begin to scale other people's participation to say some people performed better than others, because some of the loudest mouths in this House were actually working for the Ian Smith Rhodesian government, but they have the temerity to say some Zimbabweans are sell-outs as soon as they manage to get into Zanu PF cell structures," Misihairabwi-Mushonga said.
"Even amongst those Zanu PF members who went to the liberation struggle, there is a problem of inclusivity where out of those defined as national heroes, 95% were commanders while a small percentage which often does not find itself in the Heroes Acre were the real fighters eating snakes and being bitten by mosquitoes during the war," she said.
She said those who participated and suffered a lot found themselves backbenchers while undeserving people were in the front benches as ministers.
"The majority of people who participated in the war live like dogs, but when they die they are buried like kings. There are 106 people who were declared heroes and only six are women. Their widows are suffering and we want to see balance in the War Veterans Board so that the interests of all groups are taken care of," she said.
Kuwadzana East MP Nelson Chamisa (MDC-T) said there was need to honour heroes when they were still alive.
"If our dead were allowed to demonstrate, then our police would be at the national shrine every day because the comrades there marvel at the honour we give them when dead, but when they were alive we never looked after them," Chamisa said.
MPs said there was need to broaden the definition of heroes and to align laws that governed war veterans with the Constitution.