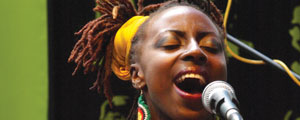 MBIRA songbird Hope Masike's last quarter of the year will be filled with various performances locally and abroad.
Tinashe Sibanda
Amid all of it, the musician's career will be taking yet another exciting turn as she has revealed that she is one of the few musicians chosen for an American cross-cultural programme called OneBeat happening this October in the United States.
"I am happy to be one of the OneBeat fellows for 2014. As always, where many other countries are involved, I take pride in showcasing one of our greatest exports — the music heritage of Zimbabwe," Masike said.
She added that there was also a lot of thrill that came from meeting brand new inspiration from other fellow musicians. "Inspiration is the food of every artiste and such collaboration, for me, is utter bliss," she said.
OneBeat is an incubator for music-based social entrepreneurship where innovative musicians from around the world launch collaborative projects designed to make a positive impact on local and global communities.
It brings together young musicians from around the world. In this year's edition, Masike will be working with musicians from countries such as Egypt, South Africa, Malaysia, Brazil, Cuba, India, Indonesia, Morocco, the US, Venezuela and Zimbabwe.
"My biggest desire is to grow the artiste in me and to have that golden opportunity to also inspire others," Masike said. "I would also love to carry my audience with me, go through this new journey with them, come back and continue together."
She said she would be happy if they could follow her on Facebook, Twitter and other such online platforms where she would share her tour experiences.
This year, OneBeat marks its third anniversary and it is the first year for Zimbabwe to be considered in the programme.
It continues to cultivate a groundbreaking international network of leading artistic, technological and social innovators in music.