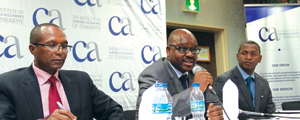 THE Institute of Chartered Accountants of Zimbabwe (ICAZ) says the local business community should participate at next month's investors' conference in South Africa and lure foreign direct investment (FDI) inflows.
TARISAI MANDIZHA
According to the United Nations Conference on Trade and Investment World Investment Report 2014, FDI for Zimbabwe was stagnant at $400 million last year. South Africa received the highest FDI in Sadc at $8,1 billion out of the $13,1 billion that flowed into the regional bloc, followed by Mozambique with $5,9 billion.
Speaking at a Press briefing in Harare, ICAZ president Bothwell Nyajeka said the conference was open to everyone and anyone was welcome to invest in Zimbabwe.
"The conference will offer participants an opportunity to gather investment intelligence on the investment climate and opportunities in Zimbabwe. This will replace common place thinking with informed and thoughtful alternative views. We call upon the business community to support this noble initiative," Nyajeka said.
He said this event will attract investors from the region, specifically from South Africa and across the globe.
"The investor conference is not an event as such, it's actually a process and the thinking is we are going to South Africa, we are showcasing Zimbabwe in South Africa and we also have our members there who are influential in various business sectors and it will enable them to come to the conference," he said.
Speaking at the same event, ICAZ chief executive officer Matts Kunaka said the reason that ICAZ was going to South Africa was that Zimbabwe needs investment from outside.
Nyajeka said the Finance and Economic Development minister Patrick Chinamasa will be a guest speaker and will deliver a keynote address on why "now" was the best time to invest in Zimbabwe.
He also said Youth, Indigenisation and Economic Empowerment minister Francis Nhema will speak on the misconceptions about the indigenisation laws in Zimbabwe.
The other topics that are going to be discussed are monetary policy: current and future incentives for investors, investors experiences from various jurisdictions that Zimbabwe can emulate, mining opportunities in Zimbabwe: do current regulations allow for returns on investment and ease of doing business in Zimbabwe looking at the Zimbabwe Investment Authority One-Stop Shop concept among others.