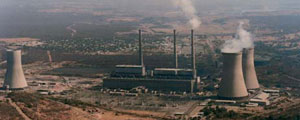 Power utility Zesa yesterday said the power outages experienced in most parts of the country were due to technical fault at Hwange Power Station.
WINSTONE ANTONIO OWN CORRESPONDENT Zesa spokesman Fullard Gwasira said technicians were working round the clock to rectify the problem.
"We lost generation due to external system disturbance which then tripped generation of power at the station," Gwasira said.
"We are expecting a phased restoration starting tonight (yesterday) and the second by tomorrow (today) and as a result of this we are no longer adhering to the load-shedding schedule."
Zesa Holdings is currently in the eye of storm over increased and unscheduled load-shedding caused mainly by obsolete infrastructure.