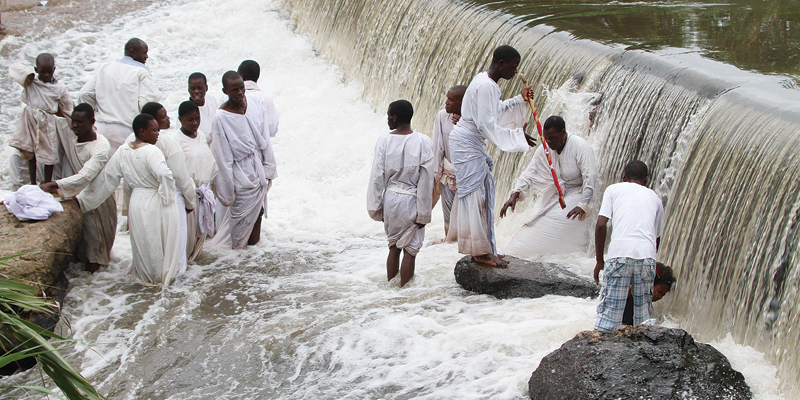 AS health services in the country continue to deteriorate, the poor, in both urban and rural areas, have been hit hard resulting in unnecessary loss of life.
Danmore Chuma
Hopley Farm, an informal settlement located on the southern periphery of Harare, with nearly 10 000 internally displaced inhabitants, is one such area where human health is heavily compromised.
A farmhouse at the camp has been turned into a clinic where residents are expected to access basic treatment, but concerns about the rapidly growing population has overstretched health delivery service at the clinic.
"We do not offer maternity delivery service here. We only offer pre-natal services that include registration, blood pressure checks and weighing.
"We, however, refer them to Rutsanana  Clinic in Highfield or Harare Central Hospital for delivery," said a nurse who refused to be named.
Pre-natal care involves regular check-ups that allow doctors or midwives to treat and prevent potential health complications during the course of pregnancies while promoting healthy lifestyles that benefit both mother and child.
The lack of maternity health services at the peri-urban suburb has forced expecting mothers to turn to apostolic faith healers known as madzibaba for assistance.
Apostolic churches particularly the Johanne Masowe sects are now a common feature in the slum community.
Tsitsi Tirivanhu, an expecting mother, said she consults faith healers from this sect for prenatal services since she cannot afford the $25 registration fee payable at the local clinic.
"We get holy water, stones and oil to ensure smooth delivery of our babies," said Tirivanhu, who is seven months pregnant.
She said it is now common practice in Zimbabwe for expecting mothers to consult either faith or traditional healers, who provide them with concoctions to avoid complications during birth. Madzibaba Aaron, who operates in the area, said he assists about eight expectant mothers every Wednesday during routine prayer sessions.
"Our faith healing sessions also ensure that these women are freed from evil spirits which may cause premature births, miscarriages and other related complications.
Services provided by Madzibaba Aaron are free although patients give gifts in cash and kind as a token of appreciation when the women eventually has a safe delivery.
Health and Child Care minister David Parirenyatwa has promised to look into health issues faced by Hopley Farm inhabitants.
''Like any other human society I see no reason why Hopley should be neglected. Thank you for highlighting this. It is something that we will look at as a ministry," Parirenyatwa said.
In its quest to reduce maternal and infant mortality, the government has adopted a mobile maternity programme.
"The mobile maternity programme is not new. We implement it all the time and Hopley might be the next candidate for this," Parirenyatwa said.
Gogo Vivian, a registered member of Zimbabwe National Traditional Healers'  Association based in Goromonzi, said traditional medicine was effective in addressing reproductive health problems.
"I use elephant dung to enlarge the reproductive canal known as masuwo in Shona. Herbs also assist in positioning the baby for delivery," Gogo Vivian said.
Gogo Vivian, who is also a member of the Makute Association, an organisation that brings herbalists and apostolic faith healers under one umbrella, said the association assisted an average 10 women per month.
"Most of our drugs are cheap going for a $1 per packet. It depends on the amount the patient wants. For delivery complications we request clients to pay us either a goat or a chicken depending on complexity of the problem."
Recently, Parirenyatwa told delegates at a three-day conference of the African, Caribbean and Pacific group of states attended by 15 countries from the region not to shun traditional medicines. ''We don't want to hinder the growth of traditional medicine. In countries like China traditional medicine has worked well," Parirenyatwa said.
According to a research carried out by the Health and Child Care ministry 80% Zimbabweans use traditional medicine for the treatment of various ailments.
President of the Apostolic Christian Council of Zimbabwe, Bishop Johannes Ndanga said his members have effective delivery methods for expecting mothers, but was quick to point out that they worked in collaboration with hospitals so as to save lives.
"Our churches have certified midwives that offer maternity delivery service especially in remotest parts of the country. "Some of the midwives are prophetesses, but others are not. They have their own way of monitoring these women through checkups and also are skilled in positioning babies in breach position by turning their heads towards the reproductive opening," Ndanga said.
He however said: "For those close to hospitals, we encourage them to go to seek medical care because we do not have the capacity to conduct operations. We encourage our church members to work together with hospitals because they are better positioned to handle emergency cases.''
After the widely-condemned 2005 Operation Restore Order (Murambatsvina), the government promised to improve the livelihoods of people that ended up living in slum settlements such as Hopley Farm, but nine years after making that pledge, government has not fulfilled its promises.
It is for this reason that Zimbabwe will not realise the Millennium Development Goals (MDGs) to improve on child and maternal mortality.
Hopley Farm located about 10 kilometers south of Harare was established in 2005 following the clean-up operation that left over 5 000 people homeless.
When contacted for comment over the matter, Local Government minister Ignatius Chombo said his ministry was not responsible for improving and upgrading health facilities at Hopley.
"Whose clinic is that? I am not the director of housing and neither am I the director of health and I am not the City of Harare. Why are you asking me about this matter?" Chombo asked.