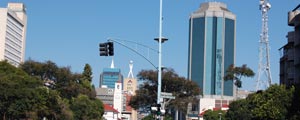 THE Reserve Bank of Zimbabwe (RBZ) has removed restrictions on foreign investors who wanted to participate on the bond market to mobilise external finance and boost market liquidity.
NDAMU SANDU
A bond market is a financial market where participants issue new debt, known as primary market or buy and sell debt securities.
Last year, Zimbabwe Stock Exchange (ZSE) chief executive officer Alban Chirume said the bourse would introduce the bond market in 2014.
The economy is facing a biting liquidity crunch seen in companies failing to pay for goods or services rendered.
In his monetary policy statement on Monday, RBZ governor John Mangudya said the removal of restrictions was in line with efforts by various stakeholders in developing money and capital markets given their criticality in enhancing financial deepening.
"In order to encourage foreign investment inflows and further develop the country's bond market, exchange control restrictions on the level of foreign participation on primary issuance of bonds and participation by foreign investors in the secondary market are removed, with immediate effect," Mangudya said.
Before the announcement, foreign investors were allowed to subscribe for up to 35% of primary issues of bonds provided the purchase was financed by inward transfer of foreign currency through normal banking channels.
The same policy also prohibited foreign investors from making purchases from the secondary market.
The purchase of bonds shall be financed by confirmed inward transfer of foreign funds through normal banking channels. Mangudya said RBZ "shall put in place enhanced reporting and monitoring structures to ensure the full accounting of these foreign capital inflows".
The RBZ boss said Zimbabweans in the Diaspora would be permitted to invest in any listed counter on the ZSE without any limit, that is, up to 100%.
The participation of non-resident Zimbabweans on ZSE had been increased to 70% from 40% in 2004 to allow the participation of Zimbabweans in the Diaspora on the local bourse.
Mangudya said the central bank would re-orient Homelink Pvt Ltd to provide a facilitative platform through which Zimbabweans in the Diaspora can be assisted to invest back home.
"Homelink will collaborate effectively with the Zimbabwe Stock Exchange, Zimbabwe Investment Authority and other financial institutions to develop various investment instruments, such as high-yielding Diaspora Bonds," he said.
"The bank will also put in place appropriate risk management measures to assure Zimbabweans in the Diaspora safety on the value of their investments."