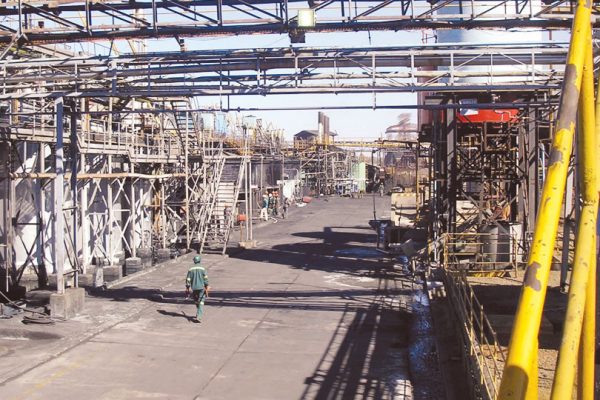 RIOZIM Limited saw losses widening to $7,5 million in the half year ended June 30 from $2,85 million in the same period last year attributed to lower production at its two mines and reduced gold and copper prices. VICTORIA MTOMBA
In a statement accompanying the group's financial results, board chairman Elisha Mushayakarara said the lower production at Empress Nickel Refinery (ENR) and Renco and effects of lower gold and copper prices compared to the prior year resulted in the group's turnover declining by 31% to $39,9 million.
In the same period last year, group turnover was $56,8 million. Mushayakarara said production at Renco was affected by the storms which were experienced in and around the Masvingo area in the first quarter of the year.
He said production at ENR was affected by the erratic matte supplies from the refinery's sole supplier.
The supplier was facing challenges with its smelter waste heat boiler.
"As a result, ENR operated below capacity, receiving only 30% of the contractual matte quantities and operating at 25% of capacity. ENR's contribution to the group's turnover declined from 78% in the same period last year to 66%," Mushayakarara said.
The group's net finance costs improved by 10% to $4 million due to the restructuring of some facilities.
Operating loss for the group stood at $4,6 million compared to an operating profit of $2,2 million.
Mushayakarara said the lower productivity levels affected the group's ability to service debt and the group continues to make strides to service its debts.
A share of profit from Murowa Diamond of $414 000 was recorded during the period under review on the back of improved throughput, processing of previously stockpiled material and improved quality of gems.
In the outlook period, Mushayakarara said the group was looking at "managing concentration risk of having a single supplier of matte by developing alternative supply of nickel and copper units from local base metals producers and regional ones".
"The current ENR plant design capacity is to process 15 000 tonnes of low sulphur matte. A plant upgrade and uprate project is currently being evaluated, which will result in the plant being able to process 45 000 tonnes of high grade sulphur matte in the next three years," Mushayakarara said.