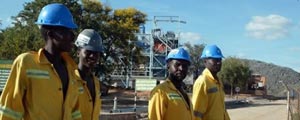 THE International Trade Union Confederation (ITUC) has called on governments, employers and trade unions to prioritise maintenance of occupational safety and health amid revelations that 4% of world gross domestic product is lost annually due to workplace accidents and diseases.
Christopher Mahove
Addressing the opening session of the 20th World Congress on Safety and Health at Work, in Germany yesterday, International Trade Union Confederation deputy secretary-general, Wellington Chibebe, said the International Labour Organisation, (ILO) estimated that more than 2,3 million people died from work-related accidents and diseases each year.
"There is, therefore, a strong moral and economic case for improving the situation in the area of occupational safety and health. Preventing occupational accidents and diseases should therefore be given the highest priority at enterprise, national and international levels," he said.
Chibebe is former secretary-general of the Zimbabwe Congress of Trade Unions.
He said trade unions, as a strategy to promote decent work, were actively working to build safe and healthy workplaces as part of their promotion of a sustainable and fair globalisation, adding that decent work could only be achieved if there were safe jobs for workers.
"ILO estimates that each year about 2,3 million people die from work-related accidents and diseases. This means that by the end of today nearly 1 million workers will suffer a workplace accident and around 5 500 workers will die due to an accident or disease from their work. Worldwide every year there are some 270 million occupational accidents and 160 million workers suffering from occupational diseases," he said.
He said the rise in informal work as well as the growth of precarious forms of employment including out-sourcing, agency work, and fixed-term and sub-contracting, had increased workers' exposure to occupational hazards and risks.
He said hazardous substances caused an estimated 650 000 deaths, most of them in the developing world, with mining, construction, logging and agriculture industries accounting for the largest share of occupational deaths.
He noted said trade unions should include occupational health and safety provisions in collective bargaining agreements, noting that scientific and practical evidence had shown that unionised workplaces had better records in terms of health and safety than those that were not organised.