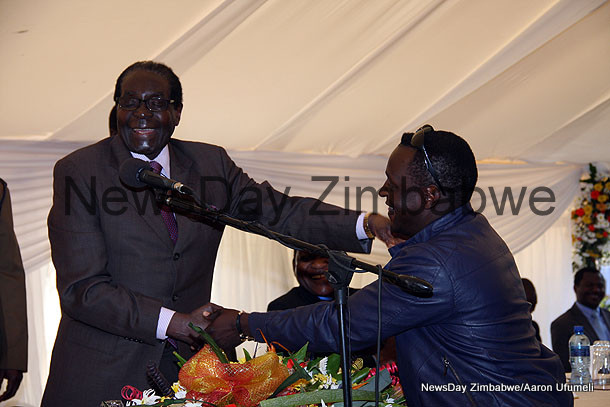 PRESIDENT Robert Mugabe yesterday threw a lavish party at State House to celebrate his Zanu PF party's resounding victory against MDC-T leader Morgan Tsvangirai in last year's harmonised elections at a time the majority of the population is reeling under grinding poverty spawned by the economic meltdown.
EVERSON MUSHAVA
In his more than an hour-long speech, Mugabe said he was confident the economy would rebound soon courtesy of several interventions his party had introduced.
"Yes, people may say the economy is grinding, but as long as you have your initiator in the right place, and you know you are getting and injecting the resources into the economy, the machine will in due course start to grind faster and faster until the rate of grinding reaches what you desire," Mugabe said.
Since Zanu PF romped to victory last year in an election whose outcome was dismissed by Tsvangirai as "a monumental farce", the economy has been nose-diving at an alarming rate.
July 31 marked exactly a year after Zanu PF romped to victory in a poll the ruling party equated to the watershed 1980 election which ended nearly a century of white rule.
Zimbabwe is grappling with massive deflation worsened by a severe capital flight as both local and international investors continue to lose confidence in Mugabe's leadership.
Unemployment rate, according to unofficial statistics, was now soaring above 90% with the Zimbabwe Congress of Trade Union claiming that over 400 workers were being laid off every week.
Economists and the opposition MDC-T have accused Mugabe's government, which was also struggling to pay its 230 000-strong workforce, of failing to revive the economy, accusing it of being clueless and too engrossed with internal succession political fights instead of finding ways to fix the economy.
Zanu PF factions pitting Vice-President Joice Mujuru and Justice minister Emmerson Mnangagwa are battling to succeed 90-year-old Mugabe at the party's December elective congress. But both have denied harbouring Presidential ambitions.
Mugabe's wife First Lady Grace has already thrown her hat into the political ring as she seeks to lead the powerful Women's League which will give her a ticket to sit alongside her husband at the apex of the party decision-making body — politburo.
The Zanu PF government was also struggling to raise the $27 billion required to fund its much-vaunted but discredited economic blueprint policy, Zimbabwe Agenda for Sustainable Socio-Economic Transformation.
Tsvangirai recently described the deepening economic crisis as a "high security risk" and "a ticking time bomb", adding that the MDC-T was ready for national dialogue aimed at rescuing the sagging economy.
But Mugabe yesterday said people castigating him over the free-falling economy were ignorant of the amount of resources Zimbabwe had and what his party was initiating to resuscitate the economy.
Mugabe said the celebrations were synonymous with the independence celebrations of April 1980, adding that his party's victory in last year's elections marked "the end of a unity government with agents of Western imperialism that were bent on derailing Zanu PF policies.
"Even today, they (MDC-T) haven't accepted that they lost. They claim that the elections were rigged, but how, they can't explain. Our support comes from the people."
He blasted the West for its deafening silence while civilians, mainly, women and children were being attacked by Israel in Gaza.
He said of the 1 300 people who have died, 93% were women and children, but United States of America President Barack Obama and British Prime Minister David Cameron had kept quiet because they had no economic interests in Gaza.
He said the Western countries only reacted when their interests were at risk, adding that they attacked Libya because they wanted oil.
"That is really a spoiler to international relations. How can there be peace in the world when such things are allowed to happen?" Mugabe queried.
The veteran Zanu PF leader said the West could not lecture Zimbabwe on human rights issues when they were the biggest perpetrator.