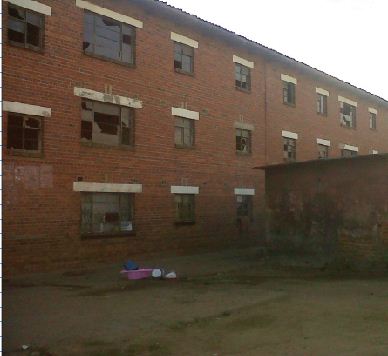 Marondera — Rusike hostel in Dombotombo suburb tells a miserable story while putting to test the city fathers' character as the structure may collapse anytime.
Own Correspondent
The hostel, that was condemned in 2003, is home to robbers, informal traders and drug peddlers.
NewsDay visited the hostel recently and discovered that the derelict flat does not only face collapse, but is home to more than 50 families, most of whom are poor and are living in squalid conditions.
While the rooms have no electricity, the windows are shattered and the floors are rough.
Raw sewage flows all over the place, while piles of rubbish have contaminated the environment.
A single mother, who identified herself as Tabeth, said she ended up living at the hostel out of desperation.
"I work in a bar and I realise about $120 a month and I have to take care of my two children and seeking accommodation elsewhere means I have to pay rentals, so it's cheap to stay here, as I only pay a mere $5 to council officials if they come here.
"Some people from the council collect money from us so that we will not be evicted, but the money is very little compared to renting a room," Tabeth said.
Tafadzwa Marwari said he stays at the hostel because he is unemployed.
"The reality is we are living in poverty with no hope for the future, I could not secure a job and I don't know if I am ever going to escape this slum life," Marwari said.
Marondera mayor Antony Makwindi said the council was aware of the poor state of the building, but said in the meantime the council did not have money to refurbish them.
"I have been at the hostel and I know it is in a terrible state, but council has no money for refurbishments, at the same time those people living at Rusike hostel are illegal inhabitants and we do not collect any revenue from them. But you never know with workers, there might be someone who is collecting money from them behind our back," Makwindi said.