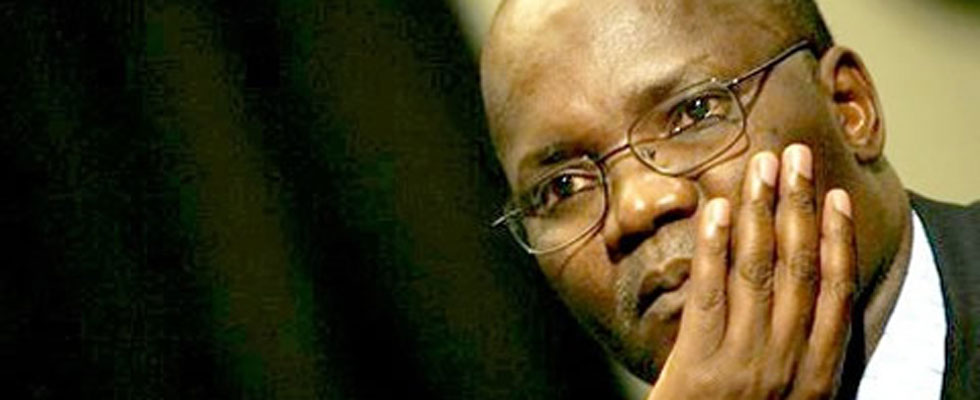 MEDIA, Information and Broadcasting Services minister Jonathan Moyo was yesterday quizzed by police detectives in Harare, to assist with investigations over faceless Facebook character Baba Jukwa.
EVERSON MUSHAVA CHIEF REPORTER
Sources close to the investigations said Moyo is said to have presented himself to the Police Law and Order Section in the morning after an earlier visit by police to his Munhumutapa Building office.
Harare police spokespersons Inspector Tadius Chibanda declined to comment and referred questions to national police spokespersons Senior Assistant Commissioner Charity Charamba and Chief Superintendent Paul Nyathi who were both not reachable for comment yesterday.
Moyo was also not picking calls on his mobile phone yesterday.
But sources said Moyo presented himself at the Police General Headquarters in the morning through the VIP section. He was allegedly quizzed by Law and Order officers from Harare Central Police Station.
The development comes after the arrest of Sunday Mail editor Edmund Kudzayi and his elder brother Phillip on charges of being the brains behind the Baba Jukwa blog which has rattled government and State security departments by publishing sensitive security matters. Both Edmund and Phillip, who are facing terrorism charges, are currently out of custody on $5 000 bail, coupled with stringent reporting conditions while their matter is yet to be given a trial date.
Sources said Moyo was taken for questioning following reports that he was the one who seconded Edmund to head the Sunday Mail. In one of Zanu PF's politburo meetings, President Robert Mugabe is said to have ordered a probe into how Kudzayi and several other editors were appointed by the former Tsholotsho MP.
Mugabe recently attacked Moyo and branded him a "devil incarnate", accusing him of using government-controlled newspapers to sow seeds of division within the party and employing journalists who were previously anti-Zanu PF.
Meanwhile, the alleged funder of Baba Jukwa, Chawarika Matongorere, yesterday said he was in South Africa to work and not to plot the downfall of Mugabe.
Matongorere, who said he was from Mabvuku-Tafara in Harare, denied that he ever funded Baba Jukwa as alleged by the police, but confirmed communicating with the phantom blogger and buying him airtime from MTN, a South African mobile phone service provider.
He said although he used to get calls from a man identifying himself as Baba Jukwa and who seemed to be in a hurry to get $50 000 for unspecified reasons, he never knew him personally and never plotted anything with him.
"To start with, I am still in shock with police allegations that I funded Baba Jukwa and wrote subversive material on social media. I can't deny communicating with Baba Jukwa and it's true he approached me to set him up with people who may fund his project," Matongorere said.
He said a proposed face-to-face meeting in Johannesburg with Baba Jukwa failed to materialise when the Facebook character, who claimed to be a close Zanu PF member fighting corruption and nepotism, wanted Matongorere to fund air tickets and accommodation for four people from Harare and a pay-out of about $5 000.
Matongorere said he received calls from a Zanu PF minister and a senior party official (names withheld) regarding the issue and felt he was being trapped.
"A day after receiving a call from the minister, Baba Jukwa wrote an email asking me to speed up my activities as his boys were raring to go and were getting impatient with my delays to meet with them," he said.
"I felt trapped with the sudden turn of events because I had these people asking to speed up preparations and, on the other side, I had the minister and his friend telling me that they knew I was talking to Baba Jukwa and they were on his tail."
The minister, Matongorere said, was eager to meet with him in Johannesburg, but he could not commit himself to the meeting.
"The Zanu PF official would call me in the morning and share with me how Baba Jukwa was damaging the party and other innocent citizens. I felt touched with his lectures and I also knew what he was talking about especially attacks on the minister's personal life and President Mugabe that were frequent on Baba Jukwa's page," he said.
"He [Baba Jukwa] even asked for my cellphone number and he called me several times, though we never met, but I am convinced whoever he is, he is not Shona, but a speaker who learnt Shona. This I discovered from his poor Shona words."
Matongorere has hired Harare lawyer Obert Gutu to represent him.
"I am in SA not to plot President Mugabe's downfall, but to work and support my family, now I have been portrayed as a terrorist when I don't even own a kitchen knife. This Baba Jukwa thing seems to be a political tool being used by the police to divert people's attention from real issues affecting our nation."