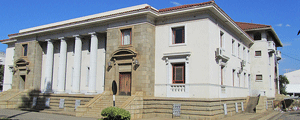 HARARE mayor Bernard Manyenyeni yesterday lamented the state of affairs at Town House, saying besides gross mismanagement of public resources, the council's top executives were still taking home their mega salaries of around $20 000 in defiance of a government directive to slash their earnings to below the $6 000 mark.
MOSES MATENGA STAFF REPORTER
Government recently ordered all heads of parastatals and public institutions to maintain a $6 000 salary cap until a new universal salary structure has been gazetted.
The directive follows reports that some executives at public institutions were earning obscene salaries while their subordinates were wallowing in poverty.
Addressing members of the Parliamentary Portfolio Committee on Local Government, Manyenyeni also said the local authority was still grappling with the $3 million garnish order by Zimbabwe Revenue Authority (ZIMRA), the effects of the debt write-off by Zanu PF last year, failure to pay workers' salaries on time and an incompetent management.
"There have not been any salary cuts. There has been an arrangement by government on that, but it has not come to us. We don't know what's happening," Manyenyeni said.
He said council's general workers were yet to receive their April, May and June salaries while management had not heeded a government directive to slash their salaries to $6 000 and below.
The lowest paid council worker, according to Manyenyeni, was getting a net salary of $161,44 and a total of $306 inclusive of allowances which was lower than the housing allowance of some of the workers in Grade 5 who are getting $380 housing allowance.
According to a salary schedule for council's top executives presented to Parliament in February, Mahachi was the top earner at council, taking home a total of $21 000 including allowances.
Other directors get a basic salary of $12 600 before allowances while their deputies take home $12 522.
"Council received a garnishee order from ZIMRA on June 13 which has further crippled our capacity," he said, adding that they were now negotiating with ZIMRA that requires at least $500 000 a week from the local authority.
He said Harare was in such a precarious situation because of the "populist" policy by Chombo last year ordering all councils to write-off debts owed to council.
"We are in this situation because of the write-off of last year. We lost two years' revenue due to that and no council can survive that way. That is exactly where our problem is and it will be difficult to forget that," Manyenyeni said.
"We have a crisis from the 2013 write-off. Those who benefited are saying it happened and it will happen again so why pay while those who did not benefit are saying we paid, but did not benefit the last time so why pay now? It's the mindset that needs to be changed. It's a crisis."
Council chairperson for the Business Development Committee Herbert Gomba said the local authority was owed large sums of money in unpaid rates by the army, police, Parliament and the University of Zimbabwe.