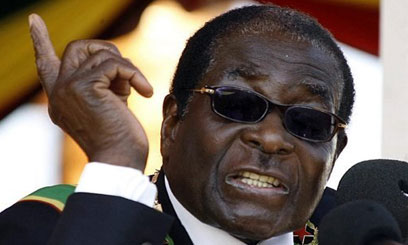 Cabinet ministers and traditional leaders who were fronting white ex-commercial farmers could lose their farms as they were undermining the principle of black economic empowerment, President Robert Mugabe warned yesterday.
NUNURAI JENA
This followed reports that some of the ministers and chiefs were leasing their farms to whites while others were under-utilising the land allocated to them during the fast-track land reform programme.
Mugabe, who was speaking at the launch of the new A1 permits at Chipfundi in Mhangura, accused his lieutenants of "supping with whites" and vowed that no farmland would be returned to whites again.
The President said sub-letting farms was undermining the essence of the land reform programme.
"Some of my ministers are being mentioned here. They are refusing to remove white farmers from their constituencies," he said to the applause of people attending the launch.
Mugabe said chiefs who were supposed to be the custodians of land were also corruptly involved in land deals.
"But we are told that chiefs are also involved in land deals. Can we do that Mr Charumbira (Chief Fortune Charumbira president of chiefs council)? Can we be seen arresting chiefs? This is an issue which we will fight against," he said.
Mugabe said those who were leasing their land risked losing it as an audit would reveal the true occupants of properties. He warned that all underutilised land would be re-allocated to deserving applicants.
At least 79 new farmers were given the new permits in Mashonaland West province. The permits, which were issued for the benefit of the permit holder and their dependants were valid for an indefinite period.
Some 220 472 model A1 farmers countrywide were expected to receive the new permits.
Mugabe's threats came at a time government indicated it would cancel 220 000 offer letters issued over the past 15 years to A1 model new farmers and replace them with new tenure permits.
Lands and Resettlement minister Douglas Mombeshora told journalists this week ahead of the launch that the new permits will allow new farmers to access agricultural funding from financial institutions "if the banks see it fit".