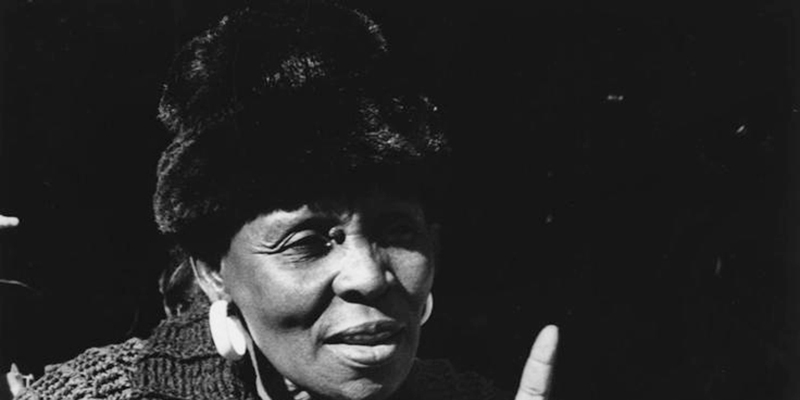 DOROTHY Masuka has been singing for most of her 77 years — and these days her schedule is busier than ever.
Mail&Guardian
In the glow of the early morning winter sun, legendary jazz singer-songwriter Dorothy Masuka is up and already sweeping and tending to the garden outside her home in Yeoville, Johannesburg.
Her domestic assistant is not in for the day, she says, as she moves inside, shifting the black-and-white couch in her living room and rearranging the small white carpets on the floor. Her grandson prepares tea while she changes from her navy-blue gown and pink pyjamas into a smart black-and-white outfit.
Born in Southern Rhodesia, now Zimbabwe, in September 1935, Masuka rose to fame in the early 1950s after abandoning her education at a Catholic boarding school in Johannesburg to join Philemon Magotsi's Ink Spots in Durban at the age of 15.
She was later "caught" and sent back to Johannesburg where she ran away again, this time to Bulawayo, Zimbabwe, where she joined the Golden Rhythm Crooners jazz band.
Masuka later went on tour with the Harlem Swingers and her jazz idol Dolly Rathebe. It was during this tour that she teamed up with jazz legend Hugh Masekela and close friend Miriam Makeba in the African Jazz and Variety Show that introduced black musicians to white audiences through the talent scout Alfred Herbert.
"You can't stop me from singing because that's my life, that's what makes me tick. Without singing I will die. It's like locking me into something where there is no air coming through," she says, cupping a large white enamel coffee mug that she takes with her on all her tours and travels.
"I didn't set out to become a musical star; music drew me, music called me. I don't know how to explain it; it's in the blood." Masuka's musical prowess reached a crescendo when, at 16, she penned one gem after another, notably Hamba Nontsokolo, her personal favourite, which she wrote while on a train from Zimbabwe to Johannesburg.
"I was a passenger travelling in third- or fourth-class coach," she says with a touch of irony. "The song is about someone who is struggling, Nontsokolo means someone who suffers. It was about my own struggle."
The song's easy kwela rhythm soon became a hit on Johannesburg's music scene and it has since been used in major Hollywood films such as Cry the Beloved Country.
It was followed by the jazz classic Pata-Pata, which she wrote as a response to the daily experience of being harassed, grabbed and catcalled at in public. The song was made famous by Miriam Makeba and reached number 12 on the United States Billboard Top 100 songs in 1967 and number seven on Billboard's R&B singles chart the same year.
Alive to the oppressive socioeconomic fruits of racial segregation in South Africa, Masuka penned the song Khawuleza — a warning to women who brewed illegal alcohol and sold it at shebeens in black townships that the police were on their way.
"I wrote and sang songs about life in Johannesburg, what was happening around us," she says, telling the story of how women in Pimville, Soweto, where she and her family lived, dug holes in the ground to hide illegal alcohol during police raids.
Poking fun at people
"When we were young we were very naughty. We sang songs often poking fun at people, especially men who frequented the shebeens and became extremely drunk," she said during a performance at the Afrikan Freedom Station on June 8 in old Sophiatown, now Westdene. "We would take one look at a man and just sing Uyibaari, lendoda yibaari [this man is stupid]."
It wasn't long before Masuka's songs became increasingly political and spoke directly about the oppressive segregation laws that the apartheid government was introducing in rapid succession, which were aimed at restricting the movement and the human rights of the black majority.
One such song, Dr Malan, drew the attention of the apartheid government's censors. The Special Branch, which investigated Masuka and her band, confiscated and destroyed every distributable copy of the song.
The ban forced her into exile for more than 30 years — first to her home country, Zimbabwe, and then to Zambia where she later settled, taking up a job as an air hostess and raising five children, two of whom died young.
Masuka's years in exile were the beginning of hell for her.
"There are three Dorothys: Dorothy the singer, the mother and politician. But Dorothy the politician is off limits. I don't want to go there," she says, refusing to divulge details of her life in several East and Central African countries.
Yet a picture is worth a thousand words. On her living room walls Masuka is pictured on several occasions with former president Nelson Mandela, the South African Communist Party leader Joe Slovo, Archbishop Desmond Tutu, former Mozambican president Joaquim Chissano, ANC leader Walter Sisulu and former Zambian president Kenneth Kaunda, among others.
"Oh, you see these pictures?" she says smiling. "You have to wait for my film Dorothy. There you will find out everything about my personal and political life."
She alludes to a picture deal she signed several years ago with the creator of South Africa's most popular soapie, Generations, Mfundi Vundla, who is currently searching for an actress to play the young Dorothy. "The old Dorothy is still here. I will play myself."
At 77 Masuka is no stranger to the big screen. She featured in a South African feature film Nothing for Mahala in 2013, playing herself, a role she enjoyed. She is busier than ever these days with travels locally and abroad.
"The flying is tiring. You spend one day here and one day there," she says, rubbing her feet.
She has been collaborating with Afrikaans rock singer and guitarist Karen Zoid, performing on various stages including the Absa Vuka Showcase and the State Theatre in Pretoria.
"We are working on a new Afrikaans song that I hope will come out soon. Now Zoid is an African girl. That girl has a lot of respect and has been raised very well, like an African girl."
But Masuka's eyes lose their glint when answering a question about the state of the music industry in South Africa.
"How can you give someone five or six awards for one song? You're killing their talent. It takes at least three years for an artiste to become comfortable with a song and then start playing around with it," she says, adding that these days a musician's success is short-lived.
"It's the promoters who are responsible for these fly-by-night artistes. Their songs are popular for three to six months and then nothing."
Valued overseas, not at home
She adds that it's not easy for illustrious musicians like herself to find suitable performance venues.
"It's not worth it to perform in South Africa — promoters don't pay, they expect you to do it for free. It's better to perform overseas, where people value who you are. I get off the plane into a limo and perform in beautiful venues."
Masuka often travels to Boston, Massachusetts, where she teaches music at Boston University.
"They want to know how someone like me who hasn't studied music can understand it so well," she says, clasping her hands, smiling wistfully.
She has harsh words when asked about the state of South Africa. "You're forcing me to talk about politics," she quips. "You people of today don't think like we did. It's like you're from another planet. Nowadays you people advertise abortion, you don't want to use corporal punishment to discipline your children. What do you expect will happen?" Her eyes widen.
"That's why I prefer to say nothing, I just keep quiet and wait for the day when the Lord will take me," she says, peering into the distance.
For Masuka, who is a devout Christian, "Johannesburg is dirty". "Right now I am working hard for my two grandchildren," she says, pointing at a picture of twins. "They are what I have been waiting for. I am working to make sure that when I leave, I leave them with something," she says, adding that she will soon be returning to her home in Zambia where she is in the process of developing a farm.
Dorothy Masuka will perform with her trio in Zimbabwe in August.
She will return to the South African stage on her birthday, September 3, to perform at the Orbit jazz club and bistro in Braamfontein, Jo'burg.