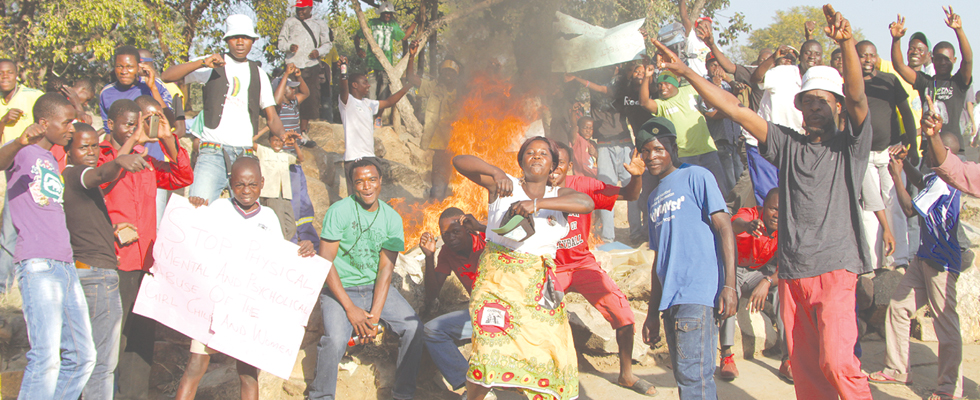 LAWYERS yesterday called for the arrest of Zanu PF youths who destroyed artefacts at Madzibaba Ishmael Mufani's Johane Masowe Echishanu shrine in Budiriro on Monday.
EVERSON MUSHAVA/MOSES MATENGA
Human rights lawyer Alec Muchadehama said the youths should face charges of malicious damage to property as they violated the Criminal Law (Codification and Reform) Act by destroying the artefacts.
"This is lawlessness. The youths should be arrested for malicious damage to property," he said.
Muchadehama said Apostolic Christian Council of Zimbabwe (AACZ) president Bishop Johannes Ndanga should also be held as an accomplice as he was said to have been present when the artefacts were destroyed.
He said police should not have acted in a manner which showed revenge over their battering by members of the sect.
Nine police officers, two journalists and an ACCZ official were injured last Friday after they were assaulted by marauding members of the sect who were protesting an ACCZ decision to ban their sect over allegations of human rights abuses.
"Police were supposed to investigate, arrest and bring them [sect members] to court than resort to tit-for-tat behaviour," Muchadehama said.
Another lawyer, Jessie Majome, criticised the police for allegedly escorting the youths who were committing a crime. "They were supposed to get a court order to destroy the property. What they did with the Zanu PF youths was unlawful. This was totally a form of punishment," Majome said.
A non-governmental organisation, Heal Zimbabwe Trust (HZT), also weighed in saying the "sudden involvement of political party cadres in the dispute serves no one, but has the potential to escalate the conflict and violence".
"Destruction of property is a form of violence that is offensive and is equally bad as the beating up of police and journalists. No violence is good or better," HZT said in a statement yesterday.
Lawyer Obert Gutu said authorities should act on the Zanu PF youths or risk the country becoming a "banana republic."
He said the use of party youths by the police was tantamount to the privatisation of the force into an armed militia of a political organisation.
"So the police have found it fit and proper to sub-contract and hire a bunch of Zanu PF hooligans, thugs and hoodlums to deal with Madzibaba Ishmael Mufani's apostolic sect?" he asked.
Analyst Alexander Rusero said the demonstration by Zanu PF youths was stage-managed.
NewsDay readers also condemned the destruction of the artefacts.
"The youths had no right to destroy Madzibaba Ishmael's property, they should be arrested and charged with malicious damage to property and also the police who led the youths to Madzibaba's shrine should be arrested as well," a reader, Onismus Sithole, said.
Nelson Mhlanga said it was unheard of for police to lead a group of youths to burn a shrine.
Police spokesperson Senior Assistant Commissioner Charity Charamba said anyone with complaints over the destruction of their property should make a report to the police to allow investigations to take place.