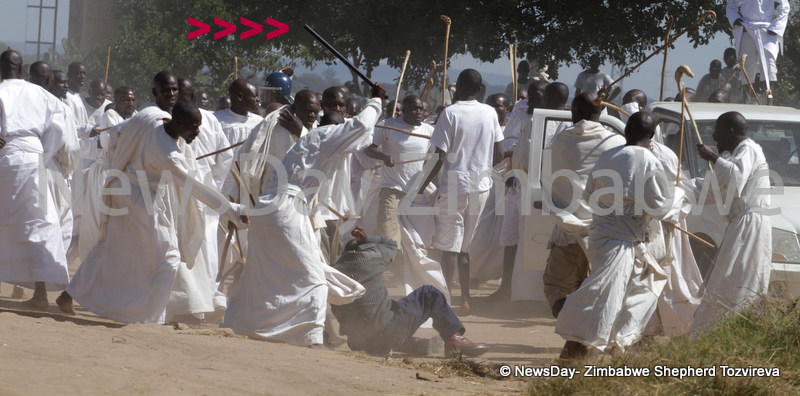 THE battering of several anti–riot police officers who had accompanied Apostolic Christian Council of Zimbabwe (ACCZ) executive president Johannes Ndanga to effect a ban on a Johanne Masowe weChishanu apostolic sect in Budiriro 2 has inspired a litany of humour–laden songs and videos by local dancehall artistes.
WINSTONE ANTONIO OWN CORRESPONDENT
Members of the Madzibaba Ishmael Mufani-led cult terrorised police officers, journalists and ACCZ officials last Friday, leaving several of their victims injured.
The videos, which have gone viral on social networks, made caricatures of police officers. Artistes behind the productions included musician-cum-producer Clarence Patsika, popularly known as Dr Clarence, who released a video titled Johane MaRasta eChishanu.
The video captures police characters clad in their official uniform dancing, with picture combos showing police officer undergoing severe battering at the hands of the sect members. "Pano pasowe ramadzibaba Chiremba hapasvikwe zvedzungu, ukasvika pasowe redu zvedzungu tinokurova . . . Zvakatangira mubhaibheri pakati paDavid naGoliath zvakanoperera kuBudiriro pakati pamadzibaba neriot," sang the chanter. Dr Clarence told NewsDay yesterday that the release was a work of art in which he captured a real life situation. "Art is in my veins so I try to as creative as possible over what local societies are becoming. The incident inspired me to compose the song," said Dr Clarence. "I am not taking any sides between the two sides (the Mapostori and the riot police)." He said the satirical song was a lighter look at serious situations and those targeted should not be offended because it was just comedy. This is not the first time that local artistes have released songs shortly after an incident. Last year, several songs were released after the Chitungwiza mysterious blast that claimed five lives with Dr Clarence also releasing a hit single titled PaChitungwiza Chakaputika. In 2012 when dancehall chanters Winky D and Sniper Storm clashed at a show that was headlined by Jamaican dancehall artiste Mavado he recorded a "diss" track titled Bongozozo PaVigilance targeting the duo. When musicians Roki and Maneta were evicted from the Big Brother house in 2012, Victor D and Goridhe released a song titled Taneta NaManenta the following day, thrashing the Bulawayo beauty over what they claimed to be her fault for causing the eviction.