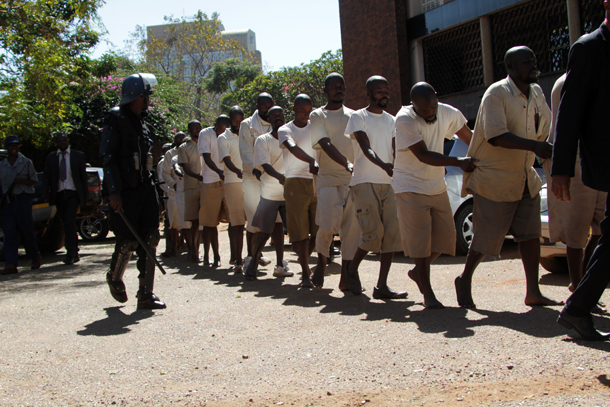 THERE was drama at the Harare Magistrates' Courts yesterday when 24 members of the Johanne Masowe weChishanu apostolic sect were barred from entering the courtroom wearing short trousers — which are part of their religious outfit.
FELUNA NLEYA STAFF REPORTER
Court officials accused the members of the apostolic sect of breaching the court's dress code which requires formal wear.
The apostolic members had come to court for their routine remand hearing in a case where they are facing charges of assaulting police officers and journalists during a raid at their Budiriro shrine in Harare early this month.
They are part of the 35 sect members arrested in connection with the violent act.
The sect members were later allowed in after their lawyers Obey Shava and Andrew Makoni filed an urgent court application seeking an order to relax the conditions on dressing.
Presiding magistrate Donald Ndirowei acceded to the request on condition the sect members left their shepherd's staves — with which they allegedly attacked the police — outside the courtroom.
Of those who appeared in court yesterday, 14 were coming from home after they paid the $100 bail granted to them last week while 10 others are still in remand prison as they have failed to raise the money.
The court remanded them to July 1 for trial.
Ndirowei yesterday set free three other sect members on bail after their lawyer applied for their release on changed circumstances.
The three — Milton Munda, Dennis Banda and John Mutasa — were released on $100
bail each, ordered to continue residing at their given residential address and to report once a week at Harare Central Police Station.
The sect leader Madzibaba Ishmael Mufani and some of his followers are still on the run.