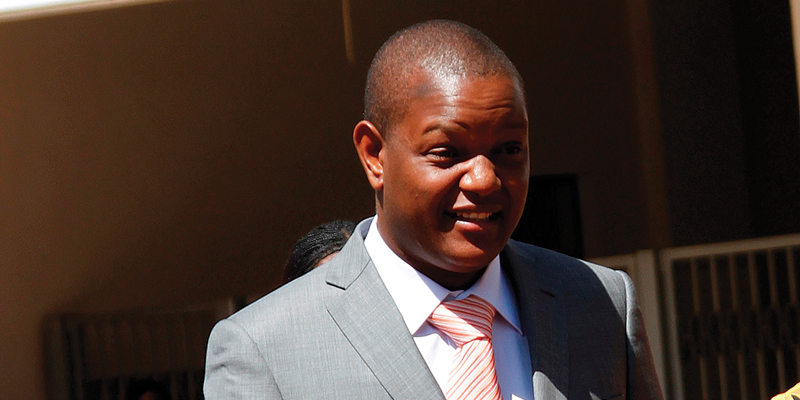 THE old adage – When two elephants fight it's the grass that suffers – aptly describes the situation where 500 workers of gold rich Tolrose mine in Kadoma have become impoverished – just by a stroke of fate.
Blessed Mhlanga
The elephants in this case are former close friends and church mates, Jameson Rushwaya and Patterson Timba whose tussle for the ownership of the mine has left a trail of destruction, suffering, death and social decadence some 10km outside Kadoma.
As a result of the fights, the workers' fortune disappeared in a stroke of fate because it meant their suffering.
Tolrose has almost collapsed after it was taken over by First Lady Grace Mugabe's son Russell Goreraza who claims to have bought shares of the mine from Timba, the suave former FML chief executive officer resulting in the knockout of Rushwaya from equation.
Rushwaya seems to have no answers to the all-powerful Goreraza who is the First Lady Grace's first born son from a previous marriage.
The 2013 takeover of the mine at one time turned violent after workers and labour leaders were assaulted by suspected State security agents, the First Lady's brother Sam Marufu and some suspected overzealous Zanu PF-aligned youths.
A report on the assault of National Mine Workers Union of Zimbabwe (NMWUZ) president Tinashe Mugwira was made at Effiel Flats police station ref OB 4620/13 before he was referred to hospital for medical examination.
"The patient has been assaulted with fists on the face and sustained (sic) pain, please treat the patient, assess degree of injury and produce exhibit," the police Request for Medical Report read.
But Goreraza's appointed Human Resources manager Nyasha Munangwa denied the allegations and distanced Marufu from the assault. And no arrests have been made to date.
Mugwira said most of the 566 workers once employed at the mine were now being forced to "hunt mice" to sell for them to earn a living after operations at the mine were grounded.
"There is no structured mining going on at Tolrose mine since Goreraza wrested ownership from Rushwaya, our members have been hounded off their jobs and some of them have turned to mice-hunting and prostitution as they seek to survive," Mugwira said.
NMWUZ has, on behalf of its members, won a writ of execution to attach and sell mine property to recover $339 782 owed to 366 mine workers (members of NMWUZ) in outstanding salaries and wages.
Despite the Deputy Sheriff Oten Tsogolani attaching the property at the mine in March, NMWUZ said it has failed to move the property or auction it following threats from "high powered political figures".
"We all know that attached property has to be moved and sold after 14 days of initial attachment, but that has not yet been done three months down the line," Mugwira said.
Stanford Samson (44) one of the workers from Tolrose Mine said the mine wrangle has had less effect on Rushwaya and Timba, but has condemned his family to untold depths of poverty and him to bitterness.
"I am owed over 17 months of salary by whoever owns Tolrose Mine, this does not include pension contributions and other benefits which I am entitled to as a worker and I am very bitter that politics has been allowed to get into the way to disrupt a thriving gold mine and with it lives of people who work here," he said.
Samson, who is from Mhondoro and has three children, said his daughter aged 17 had eloped in an attempt to flee from poverty which has now become a part of life to nearly all former workers at the mine.
"I am a bit better-off because I have a rural home and draught power so during the rainy season I go and plough fields for those who don't have cattle and then I get paid, this is the money that I have been surviving on," he said.
Women tell a harrowing story, facing a bleak future and short of options in a country where the economy is collapsing on a daily basis and companies are closing more.
Some women have opted to go the easy root by turning to prostitution.
Prisca Chingosho (50) said she has watched her peer's strut semi-nude in streets in some of Kadoma's night clubs and hotels to earn a dollar.
"Life is hard for my female colleagues including myself especially since we have not been getting salaries owing to these wrangles, some of my friends have been forced into selling themselves to survive," she added.
Chingosho said her strong Christian background was what had saved her from the tempting but dangerous "quick dollar" earned through the oldest known profession (sex work).
She survives from a $20 a month National Social Security Authority pension payout for her late husband and from that little money Chingosho has to make the most difficult decisions – spreading the thin dollar to cover her family's needs.
"For me it has been hard because when I get a dollar I have to debate on whether to buy sanitary wear or food and at times I just buy food. This has affected my health in unimaginable ways," she said.
Rushwaya and his erstwhile friend Timba entered into a business partnership in 2001 and through their investment vehicles bought the gold-rich mine.
The two were later embroiled in a lengthy court battle over share ownership of Tolrose Investments which company was created to run the mine.
According to a disputed entry from the Attorney-General's office dated August 30 2010 and signed by Chris Mutangadura entered as reasons by the office for refusing to prosecute Timba on allegations of stealing gold from Tolrose, Timba through his Swimming pool and Underwater repair owned 6 150 shares,  One Way Ministries (a church run by Timba and once attended by Rushwaya) 1 000 share and Tongesai Kaponda 499 shares which translated to 76,49% shareholding for Timba in the mine.
Rushwaya – a geologist by profession and his wife Annie – allegedly owned 23,51%  through their company Xelod Investments in what the couple has disputed is court as "cooked" share certificates.
The dispute, which was still pending before the courts, has since left 566 employees of the mine which was now virtually on its knees after going for more than 17 months without salaries.
It also left Sheppard Mangisi (24) dead and Nyasha Mpako (25) with a bullet wound in the leg while Tauya Mangisi was injured in the arm after the two camps clashed at the mine in August 2012 and gun-fire was exchanged.
Samson remembered the bloody day saying he too was hit by bullet fragments before watching Mangisi breathe his last just a few meters away from him after being shot in the abdomen.
"We were angry because when the "boys" aligned to Timba came to take the mine most of us knew that if we let him takeover he would ruin it for us so we agreed to defend the mine with our lives and we did," he said.
Rushwaya, a soft spoken man who appears heartbroken over the hostile takeover by Goreraza, refused to talk about the mine ownership wrangle saying all his submissions made through his lawyer Josinia Maupa were before the courts and the matter was still pending.
However, as he awaits the courts to resolve the matter, Goreraza's men were mining and debts were accruing while NMWUZ which has attached property, wants it sold.
Mugwira said the mine wrangle was a good example why politics should never be allowed to interfere with business.
"Tolrose without this boardroom squabbles has the capacity of producing more than 5kg of gold per month and ensure that the 565 direct employees who used to earn a living from the mine are well taken care off," he said.
Tolrose Mine has 19 registered gold claims on Blagdon Farm Extension 2 known as Glencairn Mine and of these, informed sources close to Rushuwaya said only one claim was being exploited.
In 2010, the Kadoma magistrate court issued a co-existence  order compelling  Timba, who had just fallen from grace after the collapse of his FML, and Rushwaya to work together while all gold they produced was being deposited with Fidelity Printers, but workers found themselves without salaries.
NMWUZ, on behalf of the workers, immediately filed a court application at the Chinhoyi Provincial Labour court calling on the court to move in to ensure they were paid despite the squabbles.
"Following differences (between Timba and Rushwaya), details of which are not material in this application, Applicants did not receive their salaries regularly and in time. The medical scheme which has hitherto been operating ceased to be operative and other statutory payments remain outstanding due to this boardroom squabble," part of the applicationread.
The workers pleaded with the Provincial Labour court to put in place a mechanism which would ensure that they were paid their salaries and wages while Timba and Rushwaya haggled over profits.
"That it being common cause that gold produced during the course of the employment by applicants is being held at Fidelity, sufficient gold to meet the obligations mentioned above be sold and outstanding obligations be settled," according to the application which was later granted.
Gold remains underground at Tolrose yet political intervention and greed has all, but collapsed a promising investment venture which had changed the face of the gold-mining town of Kadoma.
Timba drives a top-of-the-range Toyota Landcruser while Rushwaya lives in his two-story mansion built on the outskirts of the mine and owns a range of top-class vehicles.
But the workers all but scaveng for food at the expense of the privileged and politically-connected few accused of looting from what used to be a rich mine – a pale shadow of its former self.