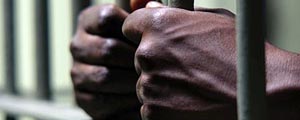 THE man who was arrested while trying to enter State House in Bulawayo in April is still languishing in remand prison as the courts are awaiting a report from psychiatrists who examined him.
SILAS NKALA
Last month magistrate Sibongile Msipa ruled that Clever Mombeshora of Matshobana should be examined by psychiatrists after his erratic behaviour in court.
This was after two medical doctors who examined him gave contradicting reports on his mental status.
One doctor said Mombeshora was fit to stand trial while the other said needed to be examined by a psychiatrist.
On Tuesday, Mombeshora was further remanded in custody to June 17 with the State saying it was still waiting for the psychiatrist's report.
At the start of the case in April, Mombeshora stunned the court when he said he intended to snatch a gun from State House to give it to his Pakistani boss.
He said the unnamed boss had promised to pay him if he brought him the gun.
Mombeshora pleaded guilty to the charge of entering a prohibited area, but Msipa said his remarks in court raised doubts about his mental health.
Early last month Mombeshora asked the magistrate to grant him bail claiming the way he was being treated in remand prison was bad.