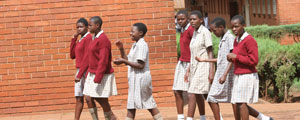 THE third edition of the Special Schools Arts Festival that will be held on June 14 at the Band Shell Stage in Harare Gardens will see an exciting programme lineup which is going to be marshalled by Sabhuku Vharazipi as the Director of ceremonies.
Tinashe Sibanda Entertainment Reporter
Children artistes with disabilities from Bulawayo, Kadoma, Masvingo, Mrewa and Harare special schools and disability resource units will showcase skills and abilities in music, poetry, traditional dance, drawing, crafts, batik, tie and dye, pottery, modeling and other art forms on the day.
Adult artistes with disabilities from Bulawayo, Kwekwe and Harare – who include visual artistes who use their feet and musical groups will also showcase their skills in the gazebos and on the performance stage.
"There will be a group of 10 artistes from a Japanese community who will work with our children in the morning at the venue in arts and craft activities which include tie and dye, stencil printing, origami, Japanese traditional calligraphy, face painting and playground exercises which include Kendama, Kite, Take-tombo and Yoyo amongst others," said the festival's spokesperson, Munya Simango.
He said children from Chipawo SOS children's village and three schools from High-Glen District would also perform alongside the children with disabilities. This year's theme breaking barriers – towards inclusive practices, aims to promote inclusive practices in the society.
"We are working with the Culture Fund – in collaboration with the European Union. We also have Hatiite Project that is working on equipping our special schools' arts departments with material and technical skills," said Simango.
Highlights of this year's event include participation of the special schools and resource units for the blind they had in the previous editions which include Copota, Mrewa, Jairos Jiri Kadoma and Southerton, ZimCARE schools from Harare, Bulawayo and Kadoma, Emerald Hill, Danhiko, Leornard Cheshire and Munashe Special School.
The festival will also include children in traditional dance and mbira music from three Highfields schools for purposes of playing with their peers, together with artistes with disabilities who include Tafi Dube who plays his music in the streets of Bulawayo, Nompilo Nkomo, Soul Bon, Naome Chaota and Jose Shavieri who plays with a band integrating members with physical impairments.
"We are soon to meet in our schools when the country adopts inclusion settings – having ratified the Convention on the Rights of the Child on September 23 2013," Simango added.
The festival will see workshops conducted by some of their artistes and guests from Japan who are expected to come in with fascinating japanese art and craft.
The Special Schools Arts Festival promotes participation of children with disabilities by making people aware of their abilities ahead of the inclusion drive they have adopted. It was established mainly to allow children with disabilities to showcase their skills and talents in various art forms.
Various children from diverse special schools, disability resource units and homes in Zimbabwe converge at the festival platform on the second Saturday of June every year to celebrate their own artistic achievements, share experiences and learn.
It was conceived upon the realisation that children with disabilities are in actual fact remarkably talented as they possessed a unique potential to develop any skills of interest and take time to perfect them to extraordinary standards.
However, very few pupils with disabilities have an opportunity to explore their creative capabilities in and outside their immediate environments. The majority of special schools were not helping the situation either; on the contrary their learning programme remained with a bias towards academics and rarely engaged their pupils in arts or even sports initiatives," he said.
Simango added that the system – which was still rampant- attempted to compete with the learning curriculum for ordinary children and remains ignorant of the fact that children with special needs are starting on a compromised footing of visual, physical, learning and/or intellectual impairments hence the means to measure their success may not only be in academics, but also in exploring their extra-curricular potential ie sports, arts, business, chores etc.
The festival has been working in collaboration with schools with children with disabilities and partners in organisations with children, disability and art thrust in their operations.
The first Special Schools Arts Festival was held on June 8 2012 and the second on June 22 2013 at the Band Shell Stage, Harare, under the theme "breaking barriers".