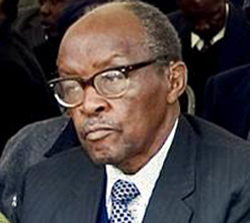 THE late former Zanu PF politburo member and ex-Cabinet minister Nathan Shamuyarira was yesterday described as a true national hero who stood for what he believed in and fought for workers' rights as minister.
STAFF REPORTER
Shamuyarira died at the age of 85 at West End Clinic on Wednesday after a long illness.
Former Harare mayor Muchadeyi Masunda described Shamuyarira as a pioneer among indigenous journalists who played a key role in the country's development.
"As one of the trailblazers among indigenous journalists in our country, he used to have sessions with my late father during the early 1950s in Bulawayo in order to get a keener appreciation of the background issues to the news because my late father was widely regarded as not only the doyen of all people of Shona descent in Matabeleland, but also the 'unofficial mayor of Bulawayo'," Masunda said.
The Zimbabwe Federation of Trade Unions (ZFTU) described Shamuyarira as the best minister ever to represent the interests of workers.
"Without Shamuyarira, the workers feel exposed to unchecked abuse at the hands of predatory capitalists and abusive politicians," ZFTU president Alfred Makwarimba said.
When NewsDay arrived at Shamuyarira's Borrowdale home, Zimbabwe Defence Forces Commander General Constantine Chiwenga, Defence minister Sydney Sekeramayi and Justice minister Emmerson Mnangagwa had just paid their condolences.
Zanu PF spokesperson Rugare Gumbo said the party had lost an important leader, adding that burial arrangements would be made known in due course.
The Zimbabwe National Editors' Forum (Zinef) said in a statement: "Apart from having previously been Minister of Information who dealt directly with the media and journalists in a progressive way despite the challenges he faced during the subsistent state of emergency in the '80s which badly affected media operations, he made history during the colonial era when he was appointed founding editor of the African Daily News in 1956."
Zinef said Shamuyarira, after independence, continued to contribute to the local media as Information minister who respected, maintained and pursued a friendly approach with the media and journalists.
"Even when the media environment became hostile after 2000 due to the politics at the time, he continued to be an honest broker of good relations between the media and the government," Zinef said.