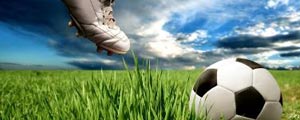 FORMER Highlanders captain Dazzy Kapenya says records are there to be broken and the current players at the Bulawayo giants should have the zeal to achieve that feat when Bosso clash with Dynamos in a Premier Soccer League match at the National Sports Stadium on Sunday.
FORTUNE MBELE
Kapenya, who won the league title with Bosso four times in succession from 1999 to 2002, says he remembers vividly the year when Highlanders beat Dynamos 2-0 at Barbourfields Stadium in 1999, adding that a game against the league champions does not belong to the coaches, but the players themselves.
It is eight years since Highlanders beat Dynamos in a league match, with the last victories being the back-to-back 1-0 and 2-0 wins at Rufaro and Barbourfields Stadium respectively when Bosso last won the league title under coach Methembe Ndlovu.
"It's a game that is always difficult to predict. I don't know what happens with our players when we play Dynamos," Kapenya said.
"Do they get intimidated by the fans or they are just timid? But records are there to be broken.
"I think the coaches are doing their best and these encounters belong more to the players than the coaches.
"All we can do as former players and supporters is to cheer from outside. The players are the ones who should have that zeal to break that record."
Kapenya, crowned Soccer Star of the Year in 2002, said the game against Dynamos was "self-motivating" and he admired the DeMbare players and their fans when it comes to the big matches, saying that enthusiasm was lacking in the Bosso players as compared to their counterparts.
"When we played games like these in our days, they were self-motivating. We did not need the coaches," the former Warriors centre-back said.
"As a player, you should assess yourself ahead of such games because there is no bigger stage to showcase yourself in the local league than when you play Dynamos.
"But Dynamos will always be more motivated and they have always dominated."
He said he wondered why Highlanders always played a better game than Dynamos especially in Harare, but they always came out second fiddle.
"I don't know; maybe our players will be under pressure from the fans," Kapenya said.
"They play well in Harare, but the results don't come. But with the way things are at the moment, it is difficult to predict the result of the game on Sunday.
"Dynamos have always dominated us and I think the best result will be a draw, but a win will be a bonus for Highlanders."
Bosso head coach Kelvin Kaindu has played second best to Dynamos boss Kalisto Pasuwa since he joined Highlanders in 2012, narrowly losing the title in that year and last season on goal difference with the same number of points.
Highlanders are second on the log standings with 21 points, one behind Hwange after the 1-1 draw against Triangle at Gibbo Stadium in Chiredzi on Sunday.
But the pressure on Sunday will definitely be on the champions Dynamos, who dropped to position five on Sunday with 19 points, following their 0-1 loss to Hwange at the Colliery.
Fixtures Tomorrow: Chapungu v Harare City (Ascot Stadium SS9) Saturday: Bantu Rovers v Buffaloes (Luveve Stadium), Black Rhinos v Triangle United (Rimuka SS9) Sunday: Dynamos v Highlanders (National Sports Stadium SS9), Hwange v Chicken Inn (Colliery), How Mine v FC Platinum (Luveve), Shabanie Mine v ZPC Kariba (Maglas), Chiredzi v Caps United (Chishamiso)