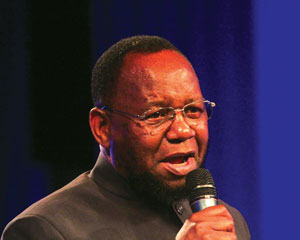 PRIMARY and Secondary Education minister Lazarus Dokora came under fire on Wednesday with panellists at a public forum saying he was destroying the education sector and flooding schools with numerous policy changes.
VENERANDA LANGA SENIOR PARLIAMENTARY REPORTER
The accusations against Dokora were vented out during a Progressive Teachers' Union of Zimbabwe (PTUZ) meeting dubbed Whither Our Education System that was attended by different stakeholders in the education sector.
PTUZ secretary-general Raymond Majongwe was not impressed by the absence of representatives from the parent Ministry of Primary and Secondary Education from the forum.
He castigated the Zanu PF government for implementing recommendations made by the 1999 Nziramasanga Commission 16 years later.
Majongwe said government was choosing to implement recommendations which suited them, while choosing to ignore implementing recommendations to do with improving salaries and conditions of service of teachers.
"According to Zanu PF, the Nziramasanga Commission Report is dubious because it does not inculcate liberation values that must be embedded in our education system," Majongwe said.
"We are not happy at the propensity of late at which changes by Dokora are coming through where circulars to schools have become the order of the day and policies are pronounced without prior consultation."
He said some of the circulars abhorred by teachers includes cancellation of incentives and cancellation of sporting activities at schools so that they were done during the weekends and recent speculation that the ministry was considering stopping paying teachers' salaries during holidays.
"The ministry does not know that they need to consult stakeholders before making policy pronouncements. The Nziramasanga Commission recommended cars and houses for teachers and why is he not implementing that, but chooses to implement what further frustrates teachers?" Majongwe queried.
"We are not insulting Dokora, but we are saying teachers' rights are human rights and we want to show you the pages you missed in the Nziramasanga report. As far as we are concerned, our education system is going down the drain and we will force President Robert Mugabe to meet us."
College Lecturers' Association of Zimbabwe president David Dzatsunga said there was a disconnection in education policies being pronounced by Dokora. "I think teachers are going from the frying pan into the fire. Recently, the department of teacher education, which is the examining body for teachers, was asked to introduce natural sciences — physics, chemistry and biology at primary school level.
What will happen to the teachers who were not trained to teach those subjects? We do have a big problem with our education system and some of these knee-jerk decisions will certainly take us down. We should interrogate where we are going with this decision-making that debunks any other means of consultation," Dzatsunga said.
The Senator representing people living with disabilities, Nyamayabo Mashavakure, said there was need to improve conditions of service of teachers with disabilities as well as make use of latest technology in the world of teaching.