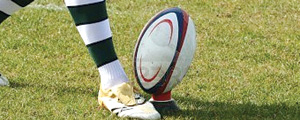 THE Zimbabwe Rugby Union (ZRU) have announced that Balie Swart, the former Springbok World Cup winning tight head prop, will join the Sables for the final three days of the camp ahead of the World Cup qualifiers.
SPORTS REPORTER
"The National Sables have received a welcome boost ahead of their training camp for the Rugby World Cup Qualifiers, that is scheduled from the 16th-26th June in Harare and are grateful to the IRB for their assistance in facilitating this," ZRU said in a statement yesterday.
"Swart is currently working for South African Rugby as a scrum coach and selector. Previously Swart was the scrum coach for the Sharks franchise, but currently also works with SANZAR developing coaches and referees — specifically with the scrum," the statement further read.
"The Zimbabwe Sables coaching staff have prioritised the need for a scrum specialist to be brought into the technical team after their last Internationals v Namibia and Kenya in November 2013.
"Balie's expertise in this department will look to provide the Sables with a more competitive scrum at the World Cup Qualifiers, a department the Namibian team in particular may look to exert their previous dominance in."